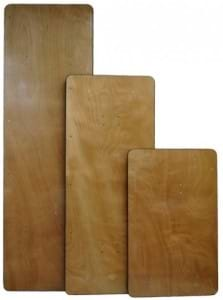 Over the three and a half years we've been publishing this blog, we've been subscribing to the belief that our customers and potential customers deserve to have the knowledge needed in order to make informed decisions. This means being transparent and answering the questions asked of us by our clients. Because of that, we've been consistently answering common questions related to our products such as how much does a plastic folding table cost, how strong is a wood folding table, and what's the difference between a plastic folding table vs a wood folding table. Below rounds up in an easy to reference list the definitive party rental guide to folding tables.
Folding Tables 101:
Folding Table Cost:
Folding Table Weight Capacity:
Folding Table Durability / Quality:
Folding Table Maintenance & Storage:
Folding Table Reviews:
Did we miss any burning questions you may have? Don't be shy – we don't bite! Tweet us at @NatlEventSupply, Like our page on Facebook and comment on our wall or send us an email at sales (at) nationaleventsupply.com with your question!
We have a wide selection of plastic folding tables and wood folding tables in stock. If you're interested in obtaining a quote with shipping to your location: