Previously, we've written about the costs of two different products that National Event Supply carries: plastic folding chairs and plastic folding tables. Today, I'm going to tackle another of our popular products, our wood folding tables. So how much do wood folding tables cost? Like with plastic folding tables, we need to look at a number of factors that go into the cost of a wood folding table. These costs include the plywood used, the quality of the table legs, how the table is distributed, and input costs for the table. Due to these factors the prices vary dramatically with an 8-ft Rectangular table ranging in price from $70 to $189.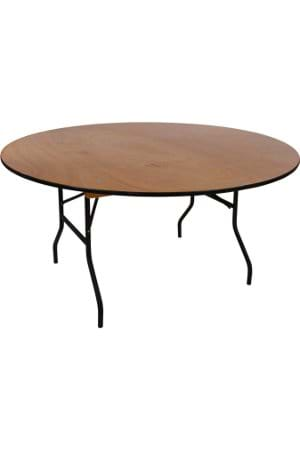 The type of plywood used in the wood folding tables varies and as a result so does the price. There are four popular plywood choices that are often used for wood folding tables: Birch Wood, Luan Wood, Yang Wood with Birch veneer, and Yang Wood with Luan veneer. While these are most popular, there are also other plywood choices that you may come across. Additionally, there are imitation plywood folding tables that are made from press board or chip board and then covered in a thin layer of plywood to mask their true identity. In general the best material is Birch Plywood followed closely by Luan Plywood. Luan is generally slightly less expensive than Birch and can be sanded and refinished multiple times without any issues. In contrast, tables with a veneer finish typically can only withstand one or two sandings and refinishings before you wear through the veneer layer exposing an uneven second layer.
Much like with the plastic folding tables, the prices of wood folding tables often fall victim to the issue of distribution. The distribution model is great for many different businesses however it does not ensure the customer receives a competitive price. This is the case because distribution models force the customer to buy from a company that is farther downstream from the factory. An example of a business like this for wood folding tables is Midwest Folding Products. The benefit that Midwest Folding Products has is their product range which is larger than most and since they are a known entity; you have a better sense of product quality.
Another factor that affects the cost of plywood tables is the input costs involved. These costs include labor, raw materials, and shipping. While the manufacturing of most plastic folding tables have been moved off shore, there are still several successful manufacturers of wood folding tables in the USA. Many of these manufacturers sell directly to the end customer which generally allows them to offer competitive prices. One of their advantages is being able to offer a wide variety of products with a relatively short waiting time. As talked about in the plywood section, materials have an effect on the price. High quality materials cost more which increases the price of the table assuming all else is equal. As a result while the table may look the same as a more expensive product, it may not stand the test of time as well as a more expensive table if the materials are not on par.
Knowing some of the factors that go into the price of wood folding tables will allow you to make a better decision with your next table purchase. If you are interested in more information about National Event Supply wood folding tables, please don't hesitate to contact us.