Day 1—Start date June 8, 2013
We frequently get asked questions regarding the strength and durability of our products. And while we can provide you with answers to most of the questions that you may have, sometimes it's better to show you. That's what we're doing now; we're pushing our products to their limit, and testing them until they fail. That's why we've started a new long term test involving our tables! This test will be similar to other long term tests that companies have done to showcase the durability of their products. This test will be a long term outdoor durability test on our 4-ft NES Reliable Rectangle Plastic Folding Tables and our 4-ft NES Wood Folding Tables. What really happens to a NES Plastic Folding Table when it is left outside? What about an NES Wood Folding Table? How do they compare? What happens when it rains, or snows, or hails, or when the sun is shining, or when it's hot out, and what about the cold!? Our test tables will experience all of these situations over the course of the next year, right here in Toronto.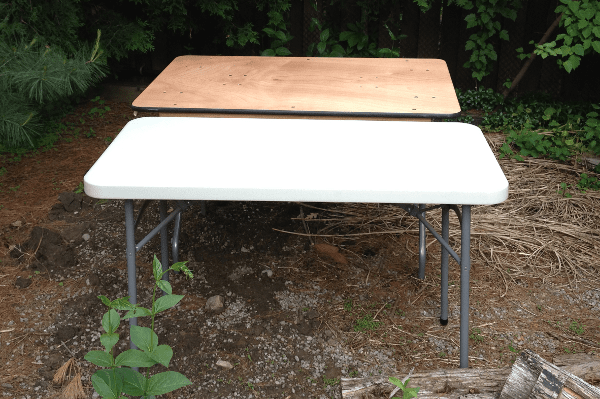 Our goal with these tests is to see how our NES Reliable Plastic Folding Tables and our NES Wood Folding Tables (Plywood Folding Tables) hold up when they are left outside for extended periods of time. Both the plastic folding table and plywood folding table have been placed side by side to ensure that they experience the same conditions over the months to come. I will provide updates on the condition of the tables and a brief look at the weather in the weeks and months ahead. At the end of the day we hope that all of these tests will help you choose the right table for your application.
Stay tuned to the National Event Supply Blog for updates on this long term test and other happenings at National Event Supply. If you have any questions about the tests or anything else, please don't hesitate to contact us!