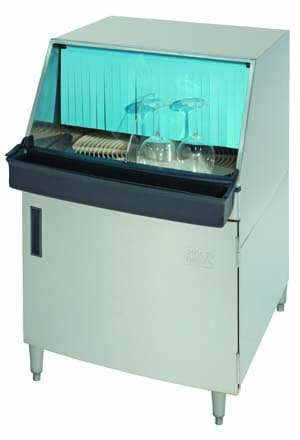 Photo courtesy of: Champion Industries
Anyone working at a foodservice establishment that sells beverages, whether it be a pub, bar, club, quick-service, fast casual or full service restaurant, knows the importance of finding a glass washer that can quickly and sanitarily turn-around all shapes and sizes of bar glasses. Whenever I am in the process of purchasing a product, I'm interested in finding the best for what I'm willing to pay. Because of this, I thought it was worth rounding up the best glass washers available in Canada for foodservice operators.
Check out the companies selling glass washers below:
Champion touts themselves as the dishwashing and glasswashing machine specialists which isn't hard to see why. They specialize almost exclusively in warewashing machines. They sell a wide range of glass washers including rotary or pass through glass washing machines. Their machines clean and sanitize up to 2000 glasses per hour with clearances of up to 12" for taller stemware. They feature a 3-pump injection system for precise dispensing.
Hobart is a well-known foodservice brand that manufactures foodservice equipment for warewashing, cooking, food preparation and waste treatment. They manufacture four different kinds of glass washers all glass rack models. They can clean and sanitize between 770 – 2160 glasses per hour depending on the model purchased. All can fit under bar or counter and all feature no escaping steam upon opening of the glass washer door. Their larger models allow double racks effectively doubling the capacity. They boast being the first commercial glass washer in the world with active drying technology to remove moisture from the glass.
CMA Dishmachines is another company that specializes exclusively in glass & warewashing equipment. Their machines can clean and sanitize between 600 to 1000 glasses per hour depending on the machine. They have both rotary (carousel) and glass rack with door models. They have an energy star rated model, and the ability of a pumped drain allowing for flexible installations with no floor drain required.
Fagor specializes in warewashing, combi ovens and refrigeration. Their undercounter glass washer features capacity for 972 glasses per hour, one year parts warranty, and high temperature sanitation to protect your glasses and have them come out cleaner and dryer than traditional sanitation methods. Their machine also doubles as a dishwasher should you need it to.
Comments (0)