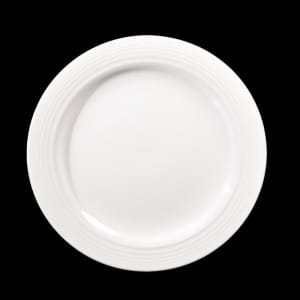 If you have ever considered purchasing porcelain for your restaurant, banquet hall, party rental, convention centre, golf course, or maybe even your house, you have probably considered purchasing from at least one of these five companies. They all offer an incredible selection of durable, commercial-quality, porcelain products and they likely have a local distributor in your area. See why these are North American leaders in Restaurant Dinnerware Supply.
Steelite International
Steelite International is a world-leading manufacturer of dinnerware products. Steelite offers an extensive collection of porcelain dinnerware to the restaurant and commercial food service industries. Manufactured in their modern, state-of-the-art facility in Stoke-on-Trent, UK they are masters at combining elegant styles with excellent durability to ensure a long lasting product. Their worldwide distribution has solidified their position as an industry leader.
Dudson
To put it mildly, Dudson has an incredible history. Founded in 1800 in Stoke-on-Trent, UK, Dudson has survived and thrived through 9 generations in the Dudson Family. Dudson is still a privately held, family-owned business with deep roots that continues to amaze with world class design and product quality. Dudson is ready to serve you with distribution centres in the UK, France, Australia, and Spain as well as showrooms in London, Paris, and Toronto.
Royal Doulton
Royal Doulton has always been at the forefront of fashion and design. Established in 1815 Royal Doulton has established themselves as a world-class British tableware brand. Royal Doulton is currently maintaining licensing arrangements with some of the world's most high profile innovators in the home and lifestyle market including Vera Wang, Jasper Conran, John Rocha, Monique Lhuillier, Barbara Barry, Gordon Ramsay, Martha Stewart and Michael Aram.
World Porcelain - A Libbey FOODSERVICE Company
While their parent company is known and respected for their glassware, World Porcelain is known for their quality porcelain products. Their dinnerware is available is a wide variety of patterns, shapes, and colours to make sure you have the perfect plate from appetiser to dessert. Libbey also owns Syracuse China.
Oneida
The Onedia brand has been around for more than 100 years. Oneida is known and respected around the world for the innovative, quality products that they have been supplying throughout their history. Their wide variety of shapes, sizes, and styles ensure every customer has the opportunity to select the perfect plate for their world class food. Oneida also owns or distributes well-known brands like Buffalo, Schonwald, Sant' Andrea, and Noritake.
It is interesting to note a few interesting things about this list. The first is that three of the top five companies have key strategic offices in Stoke-on-Trent, UK. Dudson and Steelite have their manufacturing and head office there while Royal Doulton has a design studio. It is also interesting to note that while Libbey and Oneida are more well known for other food service products (glassware and cutlery respectively) they both have very strong brands in porcelain dinnerware.
If you want to learn more about our dinnerware, why not ask us a question?