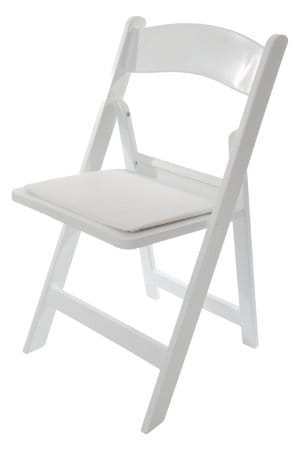 The classic event chair. This popular style of chair has been done in wood and in resin. It's classic style graces weddings and other events, both indoors, and out. We've been selling our NES Reliable White Resin Folding Chairs (also know as white wedding folding chairs) for 7 years now, and we frequently get asked how strong our chairs are, and what differentiates them from other chairs on the market. So a couple of weeks ago, we went into the warehouse to show why our NES Reliable White Resin Folding Chairs are such a great investment.
Over the years we have been selling our White Resin Chair we have usually noted that our factory has performed the standard Business and Institutional Furniture Manufacturers Association (BIFMA) set of tests which consists of dropping 225lbs from 6 inches above the chair and the chair does not fail. In addition, we have also commented that the chair will hold a static weight in excess of 400lbs (also as tested by our factory). We have confidently stated that we believed the chair could support the static weight of a person much heavier than 400lbs.
While this information is great to hear, what does it really look like? Is the chair heavily stressed with 400lbs? Will it collapse and break if you exceed 400lbs? To find out, we decided to do our own informal tests and have included some pictures so you can see the results.
We loaded up one of our NES Reliable White Resin Folding Chairs with 12 cases of our Maria 18/10 Table Knives. If you`ve ever handled cases of cutlery you`ll know these can be pretty heavy. Each case of our Maria Table Knives contains 15 dozen knives and weigh a little more than 40lbs each. We weighed each of the cases and the weights ranged from a low of 40.25lbs to a high of 41.25lbs for a total weight 483.4lbs. We left the 12 cases of Maria Table Knives on the chair seat for about 15 minutes in total. It is interesting to note that the only stress noises we heard and saw came from the cardboard boxes holding the cutlery and not our chair. As you can see from the pictures we had to tape the boxes together to make sure that they would stay on the chair and not fall over.
Before performing this informal test, we felt positive that our chair would not just survive the test, but would fare no ill effects from the weight that was piled on. After performing this informal test, we feel we can confidently say that our NES Reliable White Resin Folding chairs will hold people who weigh up to 500lbs.
NES Reliable Resin Folding Chairs are available in black and white and come with a 2 year material and manufacturing defect warranty. If you would like additional information about the NES Reliable White or Black Resin Folding Chair, or to receive a quote, please let contact us!