Wow, I can't believe it's June already! We have been crazy busy since the start of 2012. We started off the year with the beginning of our Trade Show season, first with the BC CRA Regional show in Langley, BC in mid-January 2012, and finishing up in late March at the 2012 Quebec Expo in St. Hyacinthe, Quebec. Over the course of the winter trade show season, our team collectively travelled more than 46,000 km (almost 27,000 miles)--enough to travel around the world! In total, we did 7 trade shows over a 12 week period and met with hundreds of our customers and many more potential new customers.
Then in April, Diana and I were off to China to see some new suppliers as well as work on sourcing a range of new products. Over the next year I think you will see many exciting new additions from us including additions to existing product lines as well as entirely new product lines.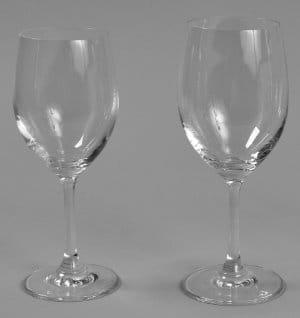 As a sample of things to come, in March we introduced our new Serenity line of lead-free Crystal. Prior to bringing in our first shipment, we wanted to test the quality of the Crystal so we brought some of the glasses home to see how they would perform. We have been using the glasses 3 to 4 times a week and washing them in our dishwasher. On a number of occasions we have also hand washed and hand dried them with a dish towel. More than 5 months into this routine, our Serenity Crystal Stemware has held up without any issues at all--no broken stems and no broken bowls.
Serenity Crystal Stemware is not only durable, but also has a classic look that will makes your customers smile. The 19 ounce and the 22 ounce glass are very similar in shape to two lines of Riedel glasses we have at home. And with our prices ranging from $2.65 to $2.95 they are a fraction of the price of several brand name Crystal wine glasses.
As a result of not just the quality but also the feedback we received early on from some of our customers on the attractive appearance of our Serenity crystal glassware, we decided to start stocking 6 different pieces to introduce the Serenity Crystal to our Customers. These 6 pieces are a 22oz, 19oz, 16oz, and 12oz wine glass as well as 7oz Martini Glass and 7oz Champagne Flute. The 22oz wine glass is great for use as a water glass or as a red wine glass. The 19oz wine glass on the other hand is great for use as a white wine glass. The Serenity Crystal is a great choice for anyone looking to offer the high end look that everyone is looking for while still keeping your costs reasonable and ultimately helping to improve your ROI. For measurements of our Serenity Crystal Stemware and other details, please visit our Serenity Crystal page.
If you are interested in our Serenity Crystal or any other products we carry please don't hesitate to contact us.