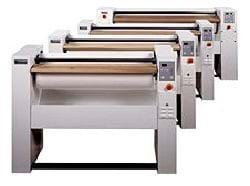 Any organization that has to launder and iron textiles such as polyester tablecloths knows the pains a traditional iron can be. When a party rental company receives their tablecloths back from a rental, they can have hundreds to turnaround before another rental. This means traditional irons don't normally cut it where the time to finish one tablecloth is just too long to efficiently finish the linen. This is where commercial ironing equipment such as a rotary iron comes in. Rotary irons conveniently and easily process larger volumes of laundry regardless of how large a tablecloth may be. Because of this they are a perfect edition to a larger party rental operation that needs to turn around tablecloths at a reasonable speed. But who makes the best rotary irons?
Here are the best rotary irons in Canada for Party Rental Companies.
Continental Girbau Rotary Irons:
Continental Girbau offers a 12.8" and 20.1" roller with the option of either gas heating, electric heating and steam heating. Ironing speeds are from 3ft per minute to 49 feet per minute. The rotary irons can finish tablecloths from 60" to 124" in width. They offer two programmable controls: the Logi control – available on 13" models – provide a simple control over iron variables such as temperature and speed which the Intelli Control – available on 20 inch models – provides complete programmability and energy efficiency. All models also have Continental's patented AutoSpeed® System which is a programmable control option that automatically modifies speed based on temperature ensuring constant temperatures and highest quality finishing results.
Huebsch Flatwork Ironers / Finishers:
Huebsch offers an 8", 13" and 20" rolls that include frequency controlled motor, finger guards and safety handles. Speed can be varied from 3ft per minute to 30 feet per minute. There are gas heating, electric heating and steam heating machines available to purchase. Finishing widths range from 55 inches to 126 inches with temperature settings between 176 degrees to 350 degrees Fahrenheit.
Unimac Commercial Ironing Equipment:
Unimac offers an 8", 13" and 20" heater roller with finishing widths that vary from 55 inches to 126 inches. Temperature controls range from 176 degrees Fahrenheit to 350 degrees Fahrenheit. There are also seven speed settings from 3 to 15 ft per minute to assist in the precise speed for fabric type and moisture content. Stop bars prevent hands from being too close to the machine and an alarm system helps ensure maintenance is consistently given. Electric heating is used to ensure a heated roller.
Are there any rotary irons you've used that we've missed? Let us know in the comments.