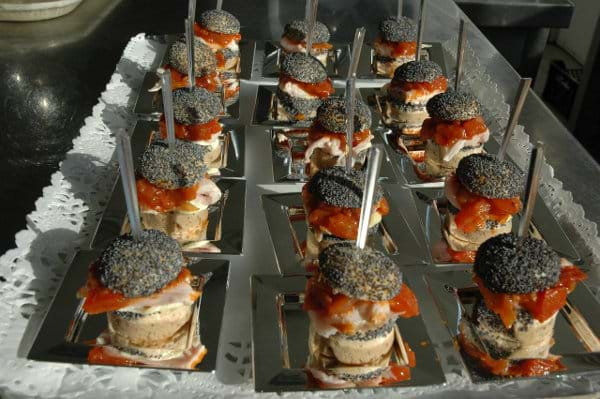 Everyone in the catering industry knows the importance of food and beverage at a wedding. It can make or break a guest's experience and can be one of the highest costs a bride and groom must pay for. Because of this, wedding reception and wedding cocktail reception menus are an extremely important part of a great wedding. Many a bride is eager to impress guests by ensuring the food is on trend with the hot items in the industry.
To help you more efficiently keep up to date on the wedding reception catering trends for this year, we've compiled 20 of the top wedding catering trends below.
Beverage Trends:
1. Beer cocktails are quickly rising in popularity. Already gracing restaurant menus, cocktails with beer including margaritas with beer, the Michelada made with beer, lime juice and hot sauce, beer sangria and much more. And speaking of sangria… Source.
2. High-end shareable punches that incorporate a creative blend of ingredients and top-shelf liquor and presented in large apothecary jars or statement bowls offer guests a creative way to have a signature drink at a wedding. Source.
Cocktail Receptions:
3. It's raining….oysters? Oysters are showing up everywhere during the first hour of cocktail receptions – such as at a raw bar and passed oyster shooters. Source.
4. Hor d'oeuvres with sweet-spicy sauces and condiments are being highlighted. Source.
5. Vegan and vegetarian dishes continue to rise in popularity and based on personal preference, clients are increasingly featuring these dishes during cocktail hours in ways such as falafel bars, hummus and bruschetta stations. Source.
6. If it's smoked, pickled, fermented, fire-roasted or preserved it's going to be popular this year with charcuterie, homemade pates and spreads as well as seafood charcuterie playing heavily in the cocktail hour. Source.
7. Action stations are still a smash hit with the wedding crowd. Memorable stations include bruschetta bars accompanied with hand-carved serrano ham and pulled pork action stations. Source.
8. Complementing the above trend, DIY stations have become a key component to wedding menus including a create-your-own-ceviche bar, build-your-own-taco-bars and caviar bars. Source.
9. Champagne bars with sparkling wines, with a variety of unexpected (and expected) garnishes such as herb sprigs, handmade syrups, fresh berries and candied ginger to customize a drink are gaining momentum. Source.
10. Complementing the wedding décor trend of curated vintage or antique dinnerware, curated hors d'oeuvre with mini cocktails or shots have made their way into the cocktail reception trends. Source.
Appetizers:
11. Upscale ramen noodles gain popularity as appetizers with caterers substituting whole wheat, soba, cellophane and rice noodles. Source.
12. Anything on a stick. Think about it – no need for guests to hold plates and it makes conversations easier to take place. Try prosciutto-wrapped melon, bite size Caprese salads, or spicy chick satay skewers. Source.
Entrees:
13. Seasonal menus that take advantage of locally grown produce remain popular taking advantage of locally grown produce and natural / organic fare. Source.
14. Environmentally sustainable foods will reign supreme during the dinner portion of a wedding. Source.
15. New cuts of meat (such as braised beef cheeks) and non-traditional fish such as mackerel and whiting will replace the more common cuts as the popular protein options for entrees. Source.
Entrée Sides:
16. Root vegetables shine as sides with celery root, parsnips and kohlrabi gaining speed. Source.
17. Move over quinoa as ancient grains such as spelt, forbidden rice and amaranth replace the much hailed superfood. Source.
Dessert:
18. Homemade savory ice creams and shaved ice desserts gain popularity for the much awaited dessert course. Source.
19. Waffle and crepe stations will provide a creative alternative to DIY sundae stations. Source.
20. And finally – although not a new trend but continuing to rise – food trucks arriving anywhere from an hour before the end of the evening to just before guests depart offer all different kinds of gourmet savoury street fare. Source.
Any additional wedding catering trends you've noticed that we've missed? Let us know in the comments!