We know we've been talking about summer for a while here at National Event Supply, but can you blame us? Summer is filled with sunshine, nights spent sipping drinks on the patio enjoying a cool summer's breeze, and spending weekends at a friend's cabin on a lake. Summer is all about the outdoor event, and although the spring buying season is winding down, we're still receiving new products and new stock at our Vancouver and Toronto warehouses.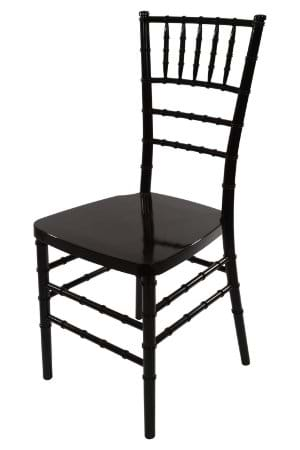 This week we received a shipment of our fantastic resin Chiavari chairs, crystal Chiavari chairs, and Chiavari chair cushions at our Toronto Warehouse. We've written about our Chiavari chairs in the past, providing a little bit of history into the design of the chair and explaining why we think our Resin Chiavari chairs are incredible. We've also shown how strong our chairs really are, and shown you one of Dennis' trade show tricks.
On the resin Chiavari chair side of things, we have a fairly good supply of black Chiavari chairs, mahogany Chiavari chairs, silver Chiavari chairs, and white Chiavari chairs. We will also be receiving an additional container of Chiavari chairs the fourth week of July which should replenish our stock of gold Chiavari chairs. All of our Chiavari chairs ship from our Toronto warehouse to locations across North America and come with a two year warranty against material and manufacturing defects.
On the Chiavari cushion side of things, we have lots of fabric cushions in black, white, or ivory in stock. We also have vinyl cushions in black, white, and ivory in stock as well as plywood-base cushions available in black and ivory. The fabric and vinyl Chiavari chair cushions all feature Velcro ties, while the plywood base cushions attach to the chairs with Velcro strips. If your cushions are beginning to look a little beat up or tired, now is the perfect opportunity to make your chairs look like new!
If you haven't finished your spring buying, or you find yourself short of key pieces need for an event, please don't hesitate to contact us for a quote. As a stocking warehouse, we try very hard to keep all the essentials in stock year-round rather than just having stock for orders taken at the winter trade shows. Have a great summer!