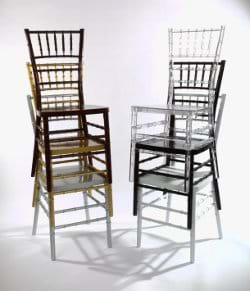 National Event Supply has been selling our NES Reliable Resin Chiavari Chairs and NES Reliable Crystal Chiavari Chairs for over two years now. We've loved them since we first set eyes on the sample chairs from the factory, and our love has not ebbed as time has passed. From the simple elegance of the white Chiavari chairs to warmth of the Mahogany Chiavari chairs, there's a lot to love. It's not just us that loves these chairs; Visitors to our trade show booths in Vancouver, Calgary, Edmonton, Saskatoon, Toronto, and Montreal have also taken a shine to them.
Recently we wrote a little about the history of the Chiavari Chair (quick summary; They're old and Italian), and did a comparison between wood Chiavari chairs and resin Chiavari chairs. In this video, the last of the three videos from the Canadian Rental Service show in Toronto, Dennis talks about our Chiavari Chairs, explains why they're so awesome, and shows off a stunt he's been doing at trade shows since we got the NES Reliable Crystal Chiavari Chair.
This is the last of our Canadian Rental Service trade show videos. If you found this video interesting and informative, and you have seen our other two vides, you can watch Dennis talking about tables here, and talking about National Event Supply here. We'll be doing some more videos that show off the strength of our Chiavari Chairs and other products again in the neat future. In the meantime, if you have any questions about our NES Reliable Resin Chiavari Chair, our NES Reliable Crystal Chiavari Chairs, or any of our other products, please don't hesitate to ask us any questions that you may have!