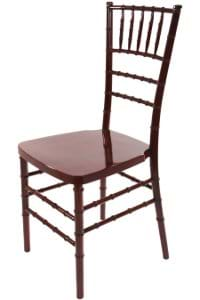 Many people who are looking to purchase Chiavari Chairs for their rental business, restaurant, or banquet hall want to examine the differences between the Resin Chiavari Chair and Wood Chiavari Chair. Since the quality of both the Resin Chiavari Chairs and Wood Chiavari Chairs can vary dramatically, for the purposes of this blog, we will assume you are considering a high quality version of each product. In that case, each of the products has positives and negatives including authenticity, durability, appearance, strength, and maintenance. This will allow you to more easily choose which option is right for your business.
When considering the authenticity of the product, the clear choice between the two products is the wood chiavari chairs. Wood Chiavari Chairs have been around for over 200 years and they are still an extremely popular choice. For many people, when you think Chiavari Chair, it simply needs to be a Wood Chiavari Chair.
When you consider durability, the tide generally turns in favour of the Resin Chiavari Chair. Resin Chiavari Chairs are better suited to daily use easily as Resin Chiavari Chairs are made with coloured resin. As a result if you do happen to chip the paint on the chair, you will see a base colour that is only a few shades different from the gloss automotive paint finishing. Compare this with a Wood Chiavari Chair which shows a natural wood colour when it chips and the advantages are clear. Additionally, some chairs like the white NES Resin Chiavari Chair are not painted at all, which means that any chips that do occur will not be noticeable without a close inspection.
A third factor to consider is appearance. Obviously no one wants to spend their hard earned money on a chair that does not look good. In this case it is likely personal preference, colour dependent, and chair manufacturer specific. In our case we have had numerous people mistake our Resin Chiavari Chairs for Wood Chiavari Chairs. If you are more discerning however you will notice that the gold Resin Chiavari Chair will have a gloss finish when compared to the Wood Chiavari Chair which will be more of a matte finish. Additionally, Wood Chiavari Chairs typically come in a wider range of colours which means it may not be possible for you to find a resin alternative.
When you consider the strength of the Chiavari Chair, think about bracing and use of stronger materials (metal, higher-quality resins). Many people find that Resin Chaivari Chairs are far stronger. As an example, our NES Resin Chiavari Chair has been subjected to a 300lb drop test from 6" above the seat which it passes without any issues. Our Crystal Chiavari Chair (made of Polycarbonate) passes a 225lb drop test without any issues. Our Resin Chiavari Chairs get their strengh from steel supports which run through the resin itself. To get the strongest Wood Chaivari Chair, you'll want to make sure it is factory assembled. Knock down chairs simply do not have the same strength.Finally, look for Wood Chiavari Chairs that feature 4 braces on the bottom of the chair, locking the seat to the chair frame. By getting the braces, and buying a factory-assembled chair, you'll reduce the wobble that often comes with Wood Chaivari Chairs as the screws become loose in the wood.
One final issue to consider is maintenance. Maintenance can become a major cost factor if the product needs constant attention. In the case of Chiavari Chairs, Resin Chiavari Chairs will hold up significantly better than Wood Chiavari Chairs. Wood Chiavari Chairs often need their screws tightened and their paint touched up after events, while Resin Chiavari Chair require very little after event maintenance.
In the case of Resin Chiavari Chairs versus Wood Chiavari Chairs there is really not a right or wrong choice. Either choice leaves you with a classic chair design that will be popular for years to come.
If you are interested in Wood Chiavari Chairs or Resin Chiavari Chairs, our sales reps would be happy to answer any questions that you may have!