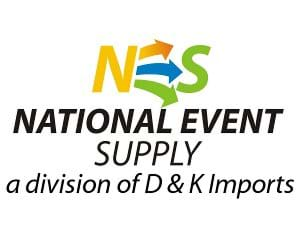 In January 2011, we issued a press release telling the world that D & K Imports was changing its name to National Event Supply. We announced that we would be expanding to Indianapolis and that we would be expanding our product lines. We've expanded our product lines, bringing in great new lines like our Serenity Crystal. We've fleshed out our porcelain wares, slowly adding items to new and existing product lines. We've even brought in new chairs, new tables, and new dollies to move everything around. National Event Supply was moving forward.
When we changed the name of the company, we also launched a new website and this blog. The old website, www.dandkimports.com, stayed up so that our existing customers who were familiar with the old website, could still find us and look for the products that they needed. However, as time went on the D & K website grew more and more out of date. New products weren't being added and the blog wasn't available.
That's why on October 1, 2012, the D & K Imports website was taken down, and links were redirected to the appropriate page on the National Event Supply website. This process was a little trickier than we would have liked, but with a little help we managed to get everything squared away and ensure that people would be able to find us at our new home. If you're coming here after trying to get to the D & K Imports, I hope that you are finding everything that you are looking for on the website, and that you find the blog articles interesting and informative.
As the year draws to a close, we're continuing to find new and exciting products that we hope you will love. If you've got any questions about National Events Supply, or any of our products, I hope that you'll drop us a line.