National Event Supply offers an impressive range of chair dollies to make transporting our chairs relatively easy. The three chair dollies I would like to focus on today are our Folding Chair Cart, Blow-Mold Folding Chair Cart, and our brand new Chiavari Chair Dolly.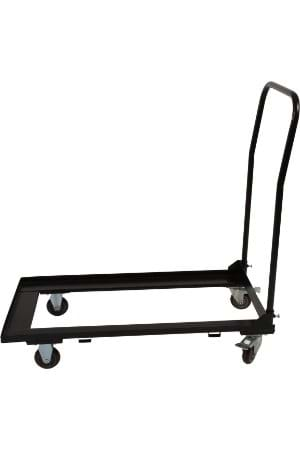 We have been offering our basic Folding Chair Cart for a number of years now. It is made of tough black powder coated steel allowing it to stand up to daily use with ease. This folding chair cart includes two locking and swiveling wheels that make it easy to maneuver the cart even with a heavy load. Additionally the locking wheels allow you to keep the chair cart in one place when loading or when it is not in use, preventing a hazardous run away chair cart. To help you secure your heavy load while in transit our folding chair cart has four tie down points that make it easy to strap down the load. The folding chair cart can be used to move or store both the NES Reliable Plastic Folding Chairs (about 50pcs) as well as the NES Reliable White Resin Folding Chairs (about 30pcs).
Our Blow-Mold Folding Chair Cart is a relatively new item for us as we have been selling this item since late 2011. It is made of a light grey powder coated steel that is very similar in colour to the blow-mold chair and table frames. It features upright support bars that allow you to stack the blow-mold stacking chairs without the risk of them falling over. The Blow-Mold Folding Chair Cart has four locking and swiveling wheels to help with maneuverability. This cart will hold 30 - NES Reliable Blow-Mold Folding Chairs making effective use of storage space.






National Event Supply' newest chair dolly addition is our Chiavari Chair Dolly. We have been carrying our NES Reliable Resin Chiavari Chairs for over 2 years now and with their success came the interest in a chair dolly to transport them. The cart has two pneumatic wheels to help absorb bumps and is made of red powder coated steel for added durability. The flip down lift bar makes it easy for you to quickly pick up and move resin or wood chiavari chairs.
We're very happy with our three chair carts/chair dollies. If you have any questions about any of these products, please don't hesitate to ask our sales reps about them.