It's been a busy day here at the National Event Supply warehouse. We took delivery of our first container early this morning and we're just starting to empty our second container this afternoon. It's great to finally have the products that everyone is looking for.
Our first container was a mixture of Plastic Folding Tables and Plastic Folding Chairs. We've managed to replenish our supply of Burgundy on Grey Plastic Folding Chairs as well as increase our stock of Black on Black Plastic Folding Chairs to help us get through the summer. In addition, we brought in some 5-ft NES Reliable Rectangular Plastic Folding Tables, allowing us to add it to our regular price list of available items.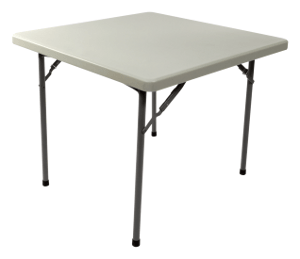 We also brought in a couple of new products for us to add to our table line-up. The first is the 3-ft NES Reliable Square Plastic Folding Card Table. Constructed of the same resin and steel as our regular banquet tables, the NES Reliable Square Plastic Folding Card Table is designed for strength and durablity. This 3-foot (36 inch) square table is very stable and features a straight-style folding leg with a snap-lock for added stability. The legs are powder coated grey steel tubing. We are incredibly happy with the build quality of this table and believe that it will meet your needs.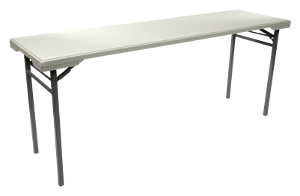 The other new table that we have brought in is a 6-ft Training Table. The NES Reliable Plastic Folding Training Table features an ultra-smooth top which is perfect for writing on. These tables are perfect for educational purposes, seminars, or anywhere else where a writing surface is required. The tables are 70 ¾ inches long and 19 ¾ inches wide with legs at the very edge of the table. We've had numerous requests for this type of table, and we believe that you won't be disappointed by this table.
Our second container arrived earlier this afternoon. It was filled with 5-ft round, 6-ft rectangular, and 8-ft rectangular plastic folding tables. Unfortunately, we only brought in 120, 5-ft round tables on this container. This means that after filling our back-orders we will have 1 or 2 tables left. We are getting more 5-ft round tables in early August, so if you are interested in the tables and can wait, please drop us a line and we will put your request into our backorder file.
That's it for today. The warehouse team is resting up for one last container this month. Tomorrow we'll be adding more Plastic Folding Chairs to add to our inventory. This last container will be the ninth container of products that we have received this month. We should have another two or three containers in the coming weeks filled with resin Chiavari chairs, porcelain, and cutlery.