Welcome back to the third and final part of our three part blog series on the new porcelain items that we have recently added to our wide range of porcelain dinnerware. In this final installment I would like to introduce you to five new products that are fantastic presentation pieces designed to make your table-top pop. Today, I am pleased to introduce our three new Wing Bowls as well as two new sizes of Sloped Bowls.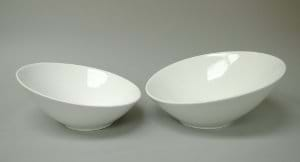 We have offered an 8.5 inch sloped bowl for about 2 years now and when customers found them, we would frequently be asked about the availability of larger-sized sloped bowls. To meet this interest we are now stocking 11.5 inch and 13.5 inch diameter sloped bowls. The three bowls are all part of the same line, allowing you and your customers to mix and match the bowls without having to worry about differences in shape or colour. The larger bowls are perfect for serving bowls for items like salads and rolls, while the smaller bowl is perfect for items like personal salads and condiment serving bowls.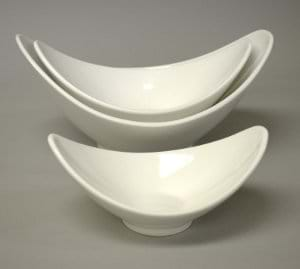 The wing bowls offer a unique shape that can be used in a variety of applications. Each size is ideal for something different ranging from a small appetiser in the 8.25 inch bowl to a mixture of fruit in the 12.5 inch Bowl. Both the wing bowls and the slanted bowls are made of our highly durable porcelain which makes them great for use in the commercial environments including restaurants, banquet halls, party rental companies, and caterers. The bowls are currently available in 8.25, 10.25, and 12.5 inch sizes, ensuring that you have the right bowl for your customers' needs.
If you are interested in more information about our sloped bowls or wing bowls please don't hesitate to contact us.