Infrequently Asked Questions
There are questions that we get asked daily, like "Where are you located?" and "How can I pay for my order?" Then there are the Infrequently Asked Questions. These are questions that we hadn't thought about until we were asked the first time. They are questions that can require a little digging or asking around to get a satisfactory answer. They are questions that we'll try to answer in our blog, so that we can share our knowledge.
What are some advantages plastic folding tables have over wood folding tables?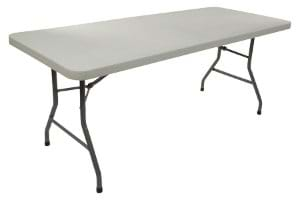 We're partial to both kinds of tables here at National Event Supply. However, that's not to say that there aren't advantages to choosing the plastic folding tables over the wood folding tables. (There are also advantages to choosing wood tables over plastic folding tables which I'll cover in a future blog entry.)
One of the primary advantage of the plastic folding tables is their relatively light weight. Our 5 foot round plastic folding table is 18lbs lighter than it's wood counterpart. Our 6ft round wood tables are 16lbs heavier than their plastic counterparts. On the 8ft and 6ft rectangular tables, the plastic folding tables are 18lbs lighter. If weight is a concern, you may be more interested in the plastic tables.
Another advantage to the plastic folding tables is that they are thinner when they are collapsed. An 8ft rectangular table is 3" thick while our 8ft plastic folding tables are 2 1/8" thick. That means you can store 3 plastic folding tables in the same amount of space that you can store 2 wood folding tables.
Finally, our plastic folding tables have been tested to meet or exceed the BIFMA standards (Business and Institutional Furniture Manufacturers Association) by the Paris, France based international testing organization, Bureau VERITAS. They also come with a two year warranty against material and manufacturing defects.
If you have any tips or tricks or questions, drop us a line or leave us a comment!