If you are a party rental company, a banquet hall or a hotel, chances are you have a number of round folding tables in your inventory. With the need for ample storage, one of the questions we often get asked is:
"How to Store Round Folding Tables"
There are four different ways to store round folding tables, with some dependent on storage space and how the folding banquet tables will be used. Check them out below:
Stored on Folding Table Racking
This type of round folding table storage is great when you have a warehouse, and want to minimize the amount of space your folding tables take up. Folding table racking can be stacked up to 3 racks high on top of one another, removed via a forklift and then wheeled (via swivel wheels) onto your truck. They hold 9-10 round folding tables.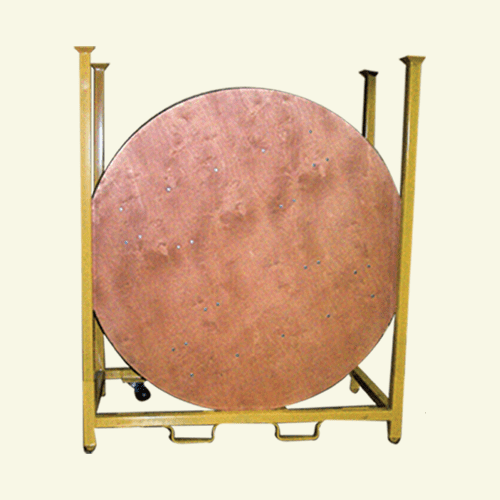 Stored on Skids
If folding table racking isn't for you, you can choose to buy skids and stack the tables on top of one another. We do this with our wood folding tables as they are manufactured and shipped to us without boxes. Generally, 4' (48" round) folding tables we would stack no more than 20 tables high (we don't stack any tables in our warehouse more than 20 tables high to avoid any damage), 5' round folding tables we would stack 18-20 tables high and 6' round folding tables we would stack 16 tables high. We stack them (wrapped in twos of tops touching tops) with table rails touching table rails. The tables can then be moved onto a truck (if need be) with a pallet truck.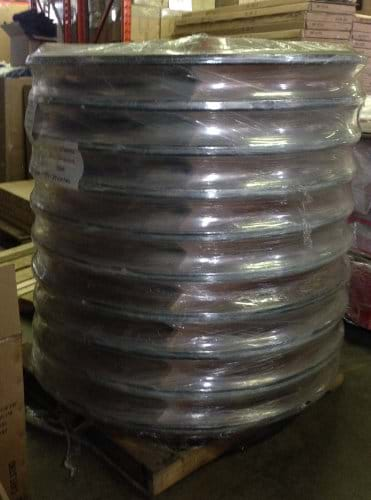 Stored on the Folding Table Edge
If you don't plan to transport the tables very often, or don't mind the extra labour involved, you can also store round folding tables on their sides (or edges as they are more often known). This type of storage ensures that the table doesn't have any extra weight on it which prevents damage. It can be a bit more of a hassle as your employees would need to ensure they're properly skidded for transport to events but this option doesn't take up as much square footage as some of the other options.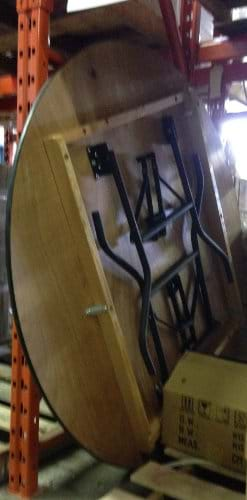 Stored in a Round Table Cart
A Round Table Cart also known as a Round Table Dolly holds round folding tables on a maneuverable wheeled cart. With four locking swivel wheels, these carts generally can hold 4ft (48"), 5ft (60"), and/or 6ft (72") round folding tables. The capacity of these carts vary in the size of the table but the general rule is 10 folding tables per cart.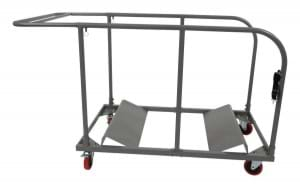 Since each method is a matter of personal preference we don't tend to state whether we feel one option is better than the other. There are party rental companies who swear by folding table racks and those that swear by round table carts. It goes back to the wood vs. plastic folding table debate. We hope this post helped showcase the different options you have available to store your round folding tables so you can preserve your investment for years to come.
Are there any ways to store round folding tables that we've missed? Let us know in the comments!
If you're interested in obtaining a custom shipping quote for our NES Round Table Cart: