We've been hard at work sourcing new products for our customer base. Because our customer base commonly uses our folding tables for banquets and events, we wanted to provide more options for those that like heavy duty plastic folding tables such as Mity-Lite ABS tables.
We are excited to announce the NES Reliable Rhino Plastic Banquet Tables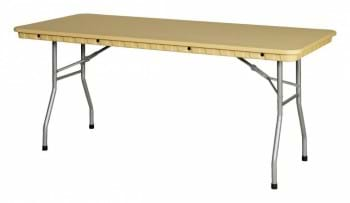 These tables will work perfectly for banquets and events because they are easy to clean, extremely durable and deliver both a product as well as a return on investment that party rental companies, hotels and banquet halls will love.
Here's an overview of what to expect from these highly durable tables:
Available as a 5ft (60") Round, 6ft x 30" Rectangle, or 8ft x 30" Rectangle
Steel legs and frame
SGS tested and approved for 2400 lbs. capacity
Weather resistant and low maintenance
Rounded corners help to avoid damage
Easy to set up and take down
Stain-resistant surfaces won't crack or splinter
Heat and water resistant
Wholesale pricing for these tables starts at $124.95 and volume discounts apply. If you're interested in obtaining a custom quote including shipping to the location of your choice: