As a banquet hall, event venue, caterer or party rental company, buying plastic folding tables for your events can be a daunting task. With so many different manufacturers and retailers out there selling folding tables, how can you be sure you're getting high quality, durable, commercial-grade plastic folding tables that allow you to rent out or use for adequate return on investment?
Because it can be overwhelming to settle on a specific plastic folding table supplier, we've put together a checklist of 4 of the 8 most important questions to ask before buying plastic folding tables.
1. How much weight can the plastic folding tables hold?
When holding events that utilize plastic folding tables, they need to be able to withstand the expected and unexpected. Perhaps you're using them for a buffet so the tables will be holding chafing dishes, beverage tubs, stacks of commercial dinnerware, and cutlery stations. Perhaps your staff during clean up loads the plastic folding tables full of dishes. Make sure to look for a plastic folding table that can hold a minimum of 700-1000lbs and that the supplier can show proof of its sturdiness.
2. What kind of locking mechanism is underneath the table?
There's great debate over which locking mechanism—snap lock or gravity lock—makes the most sense for folding tables. We're not going to get involved in the grate debate—one customer that loves snap locks, hates gravity locks while another loves gravity and hates snap. Just make sure that when you're purchasing tables that you're aware of which lock is available so you're prepared for what to expect.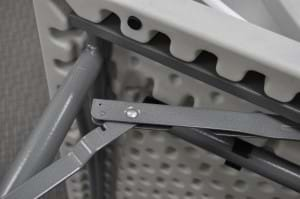 Snap locks are as their name would suggest and snap with some effort into place. These can be really secure assuming they're properly deployed. Some don't lock it in all the way and then wonder why the table folds so make sure you hear that it clicks into place.
A gravity lock, on the other hand, is a ring that slides down the table leg frame and locks the leg in place. It acts as an extra safety so that table legs don't unintentionally fold. Gravity locks can make setting up and disassembling tables more difficult for some.
3. What gauge are the table legs?
Folding tables have a different gauge (thickness) of steel depending on the table use and quality. 19 Gauge steel table legs could be classified as economy table legs because 18 gauge is lighter and less expensive than the thicker gauges.
17 Gauge steel table legs are of commercial quality and extremely suitable for foodservice, and party rental businesses looking for both durability, affordability and higher quality table legs. Make sure you find out what gauge of table leg the tables you're planning to buy offer – so you know what you're getting and what uses they'll be find for.
4. How much do the plastic folding tables weigh?
While weight may not be important if you plan the tables to stay in one place however, if you're going to be moving them to events weight becomes an increasingly important variable. Plastic folding tables come in a number of different shapes and sizes so their weight will vary depending on this. Most commercial plastic folding tables range in weight from 20lbs to 70lbs.
To view the last 4 most important questions to ask before buying plastic folding tables check out part two of the series here!