In our post last Wednesday on the first 4 most important questions to ask before buying plastic folding tables, we referenced load capacity weight, locking mechanisms, table leg gauges and the weight of the tables themselves. What else should you be asking your plastic folding table supplier before purchasing? Without further ado, check out the last 4 most important questions to ask before buying plastic folding tables.
1. Are the tables suitable for both indoor and outdoor events?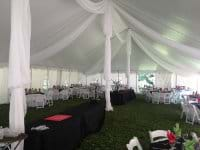 Plastic folding tables are the most durable table for indoor and outdoor events and are great for businesses that require lots of moving of furniture like party rental because they're far more lightweight and durable than plywood folding tables.
2. If Yes, can they withstand the elements?
We wrote a blog post to answer this very question – compared to wood folding tables, plastic folding tables last extremely well to the elements – they've currently been outside for greater than 88 days and still going strong. Just give them a wipe and they're ready for your next event.
3. Does the table have a warranty associated with it?
Making sure that the tables you are buying have a warranty of some kind is a good way to protect yourself in case manufacturing defects show themselves after purchase. All NES Reliable Plastic Folding Tables come with a Two Year Warranty against material or manufacturing defects.
4. What structure supports the weight on the table?
Does the table have a frame? How thick is the blow-mold (plastic) table top? Table frames are an extremely important aspect of plastic folding tables, particularly for commercial quality plastic folding tables as they provide structure, durability and ample load support. Combine a high quality table frame with a high quality blow-mold top and you are sure to have a table that can stand up to your needs. You can do this by checking out the table in person or by looking on your supplier's website. It is often very obvious when a supplier has skimped on either aspect of the table; the top will look too thin for heavy use and the frame will look unsubstantial. An additional clue can be had by looking at the suggested weight rating for the table (especially if it is not published).