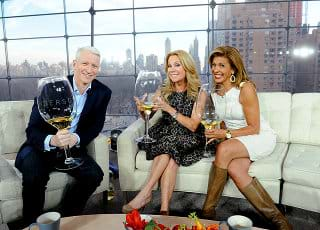 Our Serenity Crystal stemware along with our Copa / Eclisse glassware is a popular choice for commercial businesses including party rental companies, caterers, hotels, restaurants and banquet halls. With crystal and glass bearing striking similarities in aesthetics, we thought it made sense to clear up some of the top asked questions.
What is the difference between glass and crystal?
There are a number of differences between glass and crystal that should be known before purchasing stemware. Glass tends to be thicker than crystal as crystal is stronger so it can be worked thinner than glass. While glass can look quite similar to crystal, if you hold up a piece of crystal stemware to the light, the crystal will act as a prism. Crystal also produces a musical tone when you run a wet finger along the rim or when struck, though I wouldn't recommend striking a suppliers' crystal – it might not leave the best impression. Glass also tends to have a rolled / rounded rim while crystal tends to have a clean, straight cut rim.
Traditional crystal contains lead. The lead addition adds sparkle, gives more weight to the stemware, and increases its durability. There can be health concerns associated with the addition of lead oxide so many suppliers now have lead-free crystal – which is what National Event Supply carries.
Is lead crystal safe?
Lead crystal has been the primary form of crystal glassware since its inception. With the recent awareness and movement away from BPA due to health concerns, there has been debate on the use of lead in crystal. It is advised that you should not use lead crystal containers to store beverages for periods of time longer than a day. As per Riedel's website, assuming that "worldwide legal standards are met and also surpassed", there are no issues or concerns with using lead crystal on a daily basis.
How do you clean crystal & glass stemware?
Always make sure to ask the supplier this question before purchasing as there's no hard and fast rule that all crystal needs to be hand washed and all glass can be placed in a dishwasher. For businesses that deal with large quantities of stemware, it is recommended you look for crystal or glass stemware that is dishwasher safe as this will allow you to turn around your inventory faster while utilizing less man hours to do so. Imagine having to clean the glassware for a 500 person event? Not a fast or easy job. Being able to use a dishwasher can save you thousands of dollars. National Event Supply only offers Crystal and Glass stemware that is dishwasher safe – keeping our customer's in mind.
Should I be purchasing handmade or machine made glassware?
This is really a matter of personal preference. Handmade crystal and glass can lack the consistency of machine made crystal and glass. Handmade crystal in particular can be more costly than machine made crystal as some manufacturers employ master craftsman to produce their crystal glasses. While machine made glass and crystal can lack the artisans touch, they generally look more consistent and can be less expensive depending on your supplier.
If you're interested in learning more about our crystal or glassware lines, ask National Event Supply a question. We'd be happy to address any and all questions you may have – including their cost.