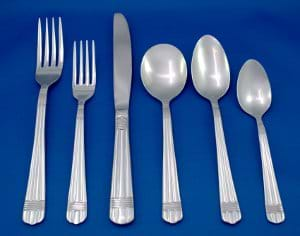 Stainless Steel is an often misunderstood alloy, particularly when it comes to cutlery. As a result we hope to improve your understanding of stainless steel cutlery with this blog post. To do so we have compiled a list of questions that we are often asked about our stainless steel flatware.
What's the difference between 18/10, 18/8 and 18/0 stainless steel cutlery?
National Event Supply currently offers two levels of cutlery being 18/8 and 18/0. The difference between them is the nickel content in the flatware. The 18 stands for 18% chromium which gives the steel its hardness as well as stain, heat and corrosion resistant properties. The 10, 8 or 0 stands for 10%, 8% or 0% Nickel. Nickel gives flatware its soft feeling and fantastic shine. In terms of the hardness and fantastic shine, the best cutlery that we offer is made of 18/8 stainless steel.
Can stainless steel stain?
It is important to remember that it is called stainless steel, not stainproof steel. We have worked extremely hard over the years to ensure we only provide high quality stainless steel cutlery. With that said it is not stainproof as there are ingredients found in many citrus products, coffee, tea, salad dressing, salt (or foods with high salt content), and vinegar that can cause discolouration in your flatware. Additionally, hard water can cause putting or spotting on your flatware. It is also important to note that soaking your flatware for extended periods of time, particularly when the soap used has a citrus/lemon additive, is bad for the longevity of your flatware and we do not recommend it.
Why should I pick stainless steel flatware versus another material?
There are many reasons to select stainless steel for your cutlery when you are looking at the different options available. The first reason is that it is dishwasher safe making it easy and convenient to clean. Every caterer, banquet hall, golf course and party rental company knows what a hassle and time consuming process hand-washing cutlery can be! Many won't even stock cutlery that can't be washed in a dishwasher because time is money-especially when you need to turnover cutlery fast. Another reason to select stainless steel cutlery-ownership is relatively carefree and practical as it is resistant to corrosion, rust and staining. It is also very economical because it has a long life while in use and is relatively inexpensive to purchase. Finally and perhaps most importantly, it looks good! A nice set of cutlery can really add a pop to your table top.
Why do your flatware prices vary even though they are equal quality?
Beyond the material used (18/10 versus 18/0), which causes a difference in the price. There are many other factors that come into play in the manufacturing and price of our cutlery. One key factor is weight; generally the heavier the pieces are, the more they cost. That is why knives and large serving pieces are more expensive. Another key factor relating directly to cost is the level of detail in the flatware. Other factors that come into play are pattern detail, extra finishing, and additional pieces available.
Is your flatware dishwasher safe?
Yes, all of the flatware sold by National Event Supply is dishwasher/commercial dishwasher safe. We recommend that any National Event Supply flatware placed in a dishwasher in such a way that the water and soap will not pool on any part of the flatware. This ensures you have the shiniest cutlery ready for your next event at a moment's notice.
If you're interested in learning more about the cutlery lines that National Event Supply stocks, feel free to contact us.