Just like our past blog post on how not all resin chiavari chairs are the same, a wood folding table is not a standard product that is exactly the same from each supplier. From our knowledge, we know that there are at least 3 different kinds of wood folding tables on the market: Birch Wood Folding Tables, Luan (Lauan) Wood Folding Tables, Chip Board / Particle Board / MDF Wood Folding Tables. This post will explain the differences amongst the three different types so when you are shopping for wood folding tables, you are able to ask the right questions to supplier's and know exactly what you're purchasing.
Birch wood folding tables:
Birch wood folding tables are generally the most expensive wood folding tables due to the fact the wood is hardwood. Hardwoods grow slower than softwoods and tend to be smaller in size and are therefore take longer to replenish. Birch has a hardness of 4 on a scale of 1 to 5 making them an extremely durable product. They also tend to be a heavier weight as hardwoods have a denser chemical structure. It's a harder wood to stain because it can get blotchy, making it a more labour-intensive finishing process. Generally you can tell a birch wood folding table based on how heavy it is and its cost. If a table is said to be Birch but is on the cheaper end of wood folding tables – the supplier is either being dishonest or the table's core is a cheaper wood – with a birch wood veneer on top.
Luan wood folding tables:
Luan (Lauan) Wood folding tables are the second most expensive wood folding tables due to the fact that it is also hardwood and one of the smoothest woods to finish. It is from the South Pacific Rim and tends to be manufactured in ¼ inch sections and when manufactured into plywood tends to be a durable, long lasting product. They are a lighter weight wood making wood folding tables utilizing lauan (such as NES wood folding tables) an easier product to transport and store. Generally you can tell a lauan wood folding table based on its weight and its cost. To see a cross-section of a luan wood folding table, check out this video.
Chipboard / Particle Board / MDF wood folding tables:
Chipboard / Particle Board wood folding tables will be on the least expensive spectrum of wood folding tables. They are made of wood chips, sawmill shavings and/or sawdust and a binding agent such as resin which are mixed together and then pressed and extruded. The chipboard will be used as the core of the wood folding table with a wood veneer in a more stainable wood as the top, customer friendly layer. It is the lightest and most breakable engineered wood even though it is visually denser. MDF is a medium density engineered wood that is stronger and denser – making it a stronger product (though not as strong as inherent wood). A con of particleboard is when exposed to moisture it is prone to expansion and discoloration. Should you have wood folding tables that have been left outside you can immediately see that the tables are warping quite dramatically. A chipboard/particle board wood folding table has a cross-section that looks like the below: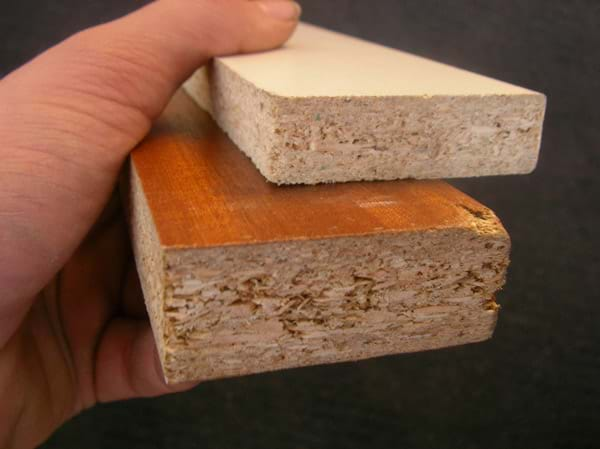 Additional Cost Variances:
Some additional reasons for the ranges of costs between tables also includes the thickness of the table legs, the style of lock for the table legs and the quality of finishing of the wood folding tables including any rigorous product testing.