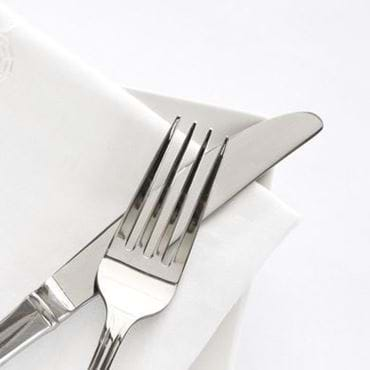 When buying from a restaurant supply store in Canada, purchases can quickly add up for porcelain dinnerware, glass and crystal stemware and restaurant cutlery. With the costs of running a restaurant and the slim profit margins, every little bit helps in contributing to the bottom line. While I'm sure there are some restaurants who want to buy branded dinnerware, cutlery and glassware – from big companies such as Steelite, Oneida and Reidel – restaurants who branch outside the box can often find savings in by buying dishes, glassware and cutlery wholesale as well.
Here is where to buy cutlery wholesale in Canada:
1. RestaurantDishes.net
Based in Newmarket, ON, Restaurant Dishes.net supplies wholesale flatware, charger plates, wholesale dinnerware and much more to Canada, the United States and the Caribbean. They supply to restaurants, resorts, seniors homes, retirement homes and schools.
2. Caterers Warehouse
Based in Rochdale Massachusetts, Caterer's Warehouse, is one of America's Leading sources for Foodservice, Catering, and hard to find Hospitality and Party Rental Supplies. Established in 1990, in Oxford, Massachusetts, they created a company where one-stop shopping for tabletop supplies would be easy, quick, and cost efficient. They allow shipping to Canada and offer wholesale pricing on cutlery along with over 18000 other items.
3. Special Event Sales
Based in Edmonton, Alberta, the event equipment sales division of Special Event Rentals, Special Event Sales provides customers across Canada with quality event equipment that is both durable and functional. Special Event Sales offers an expansive sale inventory of chairs, tables, dance floors, RaceDeck floors, barbeques, linens, tradeshow equipment, concession equipment, catering equipment, and stanchions and ropes. They offer both new and used sale equipment to help meet all customer needs.
With warehouses in Mississauga, Ontario; Brampton, Ontario; and Vancouver, British Columbia, National Event Supply is a wholesale supplier of event equipment and restaurant tabletop supplies to the party rental, event venue, golf course, hotel, catering and restaurant industries. We're on a mission to not only have stock whenever a restaurant needs it, but also have superior commercial grade products for our customers to trust their business reputation on.