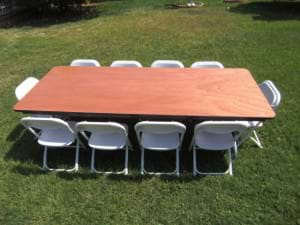 Special Events Magazine recently wrote an article in their May/June 2014 issue on Youth events. In the article they mention that budgets for children's events are slightly larger than they were two or three years ago. This article got me thinking about children's events and the different kinds of event rental inventory that goes along with them. It had me wondering if there is a Canadian market for children's event furniture rentals.
It is pretty safe to say that the inflatables market is alive and well and not going anywhere. While in the United States, and especially in the larger income centers such as New York and Los Angeles, party rental companies offer child-size Chiavari chairs, child-size white resin folding chairs and folding tables, I don't (as often) come across these items in Canada. Why is this? Is it because we're more conservative in spending as a society as a whole? Could it be argued we're more pragmatic in how we choose to spend our money – preferring to spend it on home equity, investments, and travel experiences rather than extravagant parties for children who may – or may not – remember it in the future? Or is it that the vast wealth tends to populate in the United States?
I don't currently have children but I suspect that even if I did, I wouldn't be the target market for child-size chairs or tables. In my limited experience, children tend not to sit still long enough to warrant me spending a fairly substantial cost to rent Chiavari chairs or white resin folding chairs for them. The pragmatist in me would say my children can sit on the lawn or on plastic folding chairs along with their friends and friend's parents.
At National Event Supply, we don't have a definitive answer to this question. We're anxious to hear what you have to say. At this point in time we've received a few inquiries regarding child size Chiavari chairs and child size white resin folding chairs but not enough demand to warrant stocking and selling them to the Canadian Market. What are your thoughts on this? Do you have a lot of requests for child-sized event furniture? Do you agree or disagree with my statements? Let me know in the comments. I'm eager to hear what you have to say.
If you want to be on our insider's list and be first to know when we get new products in stock, join our mailing list.