This is the fourth year that we've exhibited at the BC Foodservice Expo. In past years we've seen a lot of cool things and met a lot of interesting people. This year we've been looking through the exhibitor list, the seminars, and other events that are being held and have picked out the three that we're most excited by.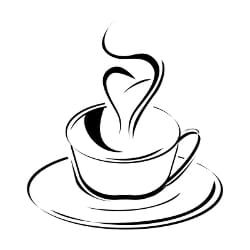 The first thing that we're going to want to visit is the Coffee Roasters section located right beside the BC Chef's Association Hot Chefs Competition stage. Our Trade Show team is passionate about their coffee and I know they're going to want to explore that area and learn all that they can about the art of roasting coffee as well as sample the brews available. If you're passionate about your coffee, I'd highly recommend visiting the exhibitors and learning how good coffee can be. And if you need larger coffee mugs to serve your customers their morning caffeine jolt, we have you covered with coffee cups in 10oz, 16oz, and 20oz sizes. We also have cappuccino bowls.
Second on our list of things to see is the Winery and Microbrewery Section located right beside the seminar stage. Who wouldn't want to visit booths where you can sample some of BC's finest wines. And no one on the Trade Show team is going to say no to trying an interesting microbrew. If there's one thing the trade show team like more than good coffee, it's an ice cold beer. And if you happen to be looking for something to serve the wine in, we have our Serenity Crystal Stemware, our Copa Glass Stemware, and our Eclisse Glass Stemware. We also have beer glasses available in our Eclisse Line.
Finally, we highly recommend checking out the BC Chef of the Year Roasted Competition, The BC Chinese Chef of the Year Competition and the Hot Competition! Junior Chef Challenge. I have to admit that I spent an inordinate amount of time watching the Food Network over the Christmas Holidays (12 hour Iron Chef America Marathon? Don't mind if I do!). This is just like the Food Network, only live! We've been lucky of the past couple of years and our booth has been right next to the stage so we've been able to see a lot of the competition. If you need a break from visiting booths and are interested in seeing top chefs' techniques and meal ideas, this is an incredible way to spend some time.
If you're at the show, we hope you'll stop by our booth (138 & 140) and take a look at our products. We'll be showing off Polar White which is an incredible dinnerware line which we've just introduced. In addition, we'll have our other dinnerware and flatware lines available for viewing. Hope to see you at the show!
Coffee Cup Image courtesy of digitalart / FreeDigitalPhotos.net