The National Event Supply Trade Show Team were out in Vancouver again this weeked for the BC Foodservice Expo. We spent Saturday morning setting up the booth and then spent the afternoon exploring the city of Vancouver. We decided to go to Granville Island to check out the sights and experience more of Vancouver than their gorgeous convention centre. Granville Island in the middle of the city and there are tons of great restaurants to go to, a public market, a number of art galleries, the Emily Carr University of Art & Design as well as a number of other artisan studios. You can also visit an active micro brewery, The Granville Island Brewery. Granville Island has incredible views of the surrounding cityscape and there are yachts of every shape and size at water's edge all around the island. It was quite busy for a cool, cloudy, winter day and I could only imagine how busy it would be in the summertime.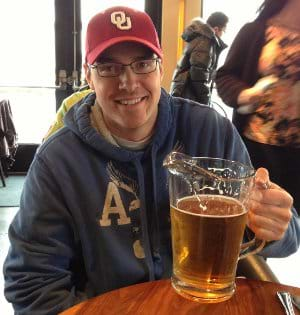 After strolling around for a while, we decided to go to Bridges Restaurant for lunch and enjoyed the Dine Out promotion. This two week program offers special lunch and dinner menus at a reduced price. For $20 I enjoyed a mixed garden salad, salmon on a bed of fettuccini and for dessert a Oreo Cookie Gelato. Jonathan had the same salad and dessert as I had, but had a Pulled Pork sandwich. Since we had such a busy morning setting our booth up for the BC Foodservice Expo we also decided to enjoy a pitcher of Granville Island Lager. You can tell by the smile on Jonathan's face it was going down very well! We would both give the restaurant a 5 out for 5 for the lunches we were served. Service was great as well.
The BC Foodservice expo opened on Sunday at 11:00am with great fanfare and lots of activity around the BC Chefs Hot Competition. Our booth was in a great position with big Hospitality foodservice distributor Sysco across the aisle from us and Dudson China just around the corner at the end of the next aisle. We had great traffic for most of the day with Nahar from Discount Party Rentals coming from Abbotsford to take a look at our Quadrato Dinnerware, our Maria 18/10 Cutlery, and our wood folding tables. He was particularly pleased to hear we are now stocking a wide range of our wood and plastic folding tables and our plastic folding chairs and white resin folding chairs in Vancouver.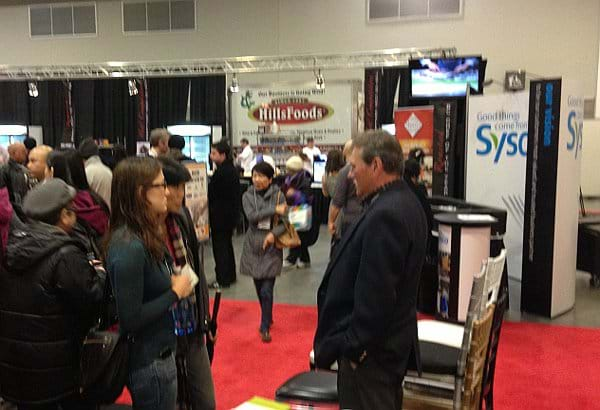 Later in the day we met with Charlie Huang of Peaceful Restaurant. Charlie was excited to discover how cost effective it is to buy square dinnerware like our Quadrato dinnerware from National Event Supply and discussed the possibility of working with NES to develop custom branded plates for his restaurant. While speaking with Charlie we found our that he was the only Chinese restaurant to appear on Diners, Drive-in & Dives with host Guy Fieri. Here's the link to the show episode of Charlie appearing on Diners, Drive-ins & Dives.
All in all, we had a great time at the BC Foodservice Expo, and can hardly wait to get back to Vancouver again next year. If you couldn't make it to the show and you're interested in one of our catalogues, please fill out this form and we'd be happy to send you out a copy!