This Saturday we were exhibiting at the Canadian Rental Association's Ontario Tabletop show which was held at the Nottawasaga Inn & Resort in Aliston, Ontario. While the show was held in a tabletop format we were still able to show off a number of our latest new product lines. We presented our new Wing Bowls (which have been hard to keep in stock), our latest dinnerware line, Polar White, as well as our Serenity Crystal stemware and Eclisse Glass stemware. Combined with our Tabletop and Table & Chair catalogues resulted in a full showing for our booth.
Bill and I were busy throughout the day meeting with a number of our customers including Mike from Happening Party Rentals, Collingwood and Christian from Totally Covered Events, Aliston each stopping by to check out our new Crystal Stemware and discuss some of the attributes of our NES Reliable Line of Plastic Folding Tables. We wrapped up the show with a long chat with Paul from Location Equipment Supply, Toronto about our extensive NES Reliable line of Plastic Folding Tables and Chairs including our NES Reliable 6ft Fold in Half Tables.
After the show everyone headed into the banquet hall at the Nottawasaga Inn Resort where we enjoyed a cocktail (or two) before sitting down for a superb dinner. We were served a Butternut Squash soup with a maple glazed breaded topping, a mixed greens salad with radicchio and spiced walnuts and for the finale we enjoyed Pan-seared pork tenderloin with a peach mango & chipotle glaze, with wild & white rice pilaf. The entire meal from start to finish was simply delicious.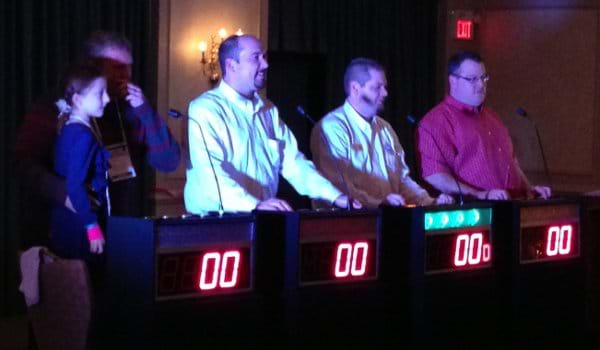 To wrap up the evening we were entertained by Hart Entertainment with 'Game Show Mania', a quiz show where many of us were invited to be participants in the quiz based show. Contestants are asked simple well known everyday questions and raced to hit their buttons to be the first to answer. In the picture above we see Colin Wilson with his daughter Lauren (World of Rentals, Kingston), Paul Potvin (Location Equipment Supply, Toronto and CRA Ontario 2nd Vice President), Mike Maltby (Ingersoll Rentals and CRA Ontario President) and Gary Webb (LB White, Tampa). Paul and Gary were finalists in the contest with Paul becoming the eventual winner of the grand prize, half of the 50/50 pot that had been collected throughout the evening.
After the game show, Mike Maltby presented some awards including the Image Award to Hank from Tim's Party Centre, Bowmanville and the Rental Store of the year was presented to Paul at Location Equipment Supply, Toronto. Wacker Nuesen were presented with the Ontario CRA Supplier of the year Award. Jeff Campbell the incoming CRA National President spoke briefly and noted the Canadian Rental Association was sponsoring a PR program that is available to all Members and Associate Members of the CRA. Since Jeff is being appointed CRA National President next month at 2013 Rental Show in Las Vegas, the PR firm used this as an opportunity to spread the news in Jeff's local St. Thomas community. Jeff is now a celebrity throughout the community and has seen a nice jump in visits to his store, St. Thomas Rent-All.
| | |
| --- | --- |
| | |
| Hank from Tim's Party Centre | Paul from Location Equipment Supply |
Our Next Trade Show has us heading back out to the west coast for the BC Foodservice Expo on January 27 and 28, 2013. If you aren't going to be able to see us at a show, why not request our catalogue to see what we have in stock!