As it's quickly approaching the end of the year and the holiday season, we thought it would be fitting to compile some of the articles we consider to be some of the most useful, most insightful or most educational of the year. This has been a fantastic year for National Event Supply. We hope you've had a great one as well. Click on the industry you're interested in below and you'll be fast tracked to the articles of interest for you.
Party Rental
Restaurants
Catering
Party Rental
Rental Essentials: Party Rental Stops 'Death Spiral' Discounting Policies
With the business climate becoming better every passing day, no longer are event rental companies in a discount death spiral of discounting far or fast enough. Now, many companies are using discounting as a strategic business tool instead of a way to survive. Check out this article from Special Events Magazine to see how other event rental companies are utilizing discounts.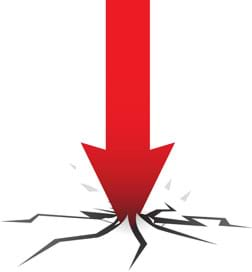 10 Predictions About the 2014 Event Rental Industry
According to a number of big party and event rental companies profiled by Special Events Magazine, "business has firmed up in 2013, and they expect the same continued–albeit slow–growth in 2014." With 2013 nearing an end, a number of publications across the entire foodservice, hospitality, and event industry have been forecasting how the 2014 Party and Event Rental industry will fare. Check out 10 of the most interesting things we've uncovered!
Compete or Collaborate?
In business, it's more often you hear about strategic alliances with complementary businesses. Very rarely do you hear about strategic alliances with the competition. But an article by InTents Magazine suggests there are potential benefits with collaborating with your competition – while carefully analyzing the pros and cons prior to entering the partnership. Check out the full article for what you should be asking before going ahead with a potential deal.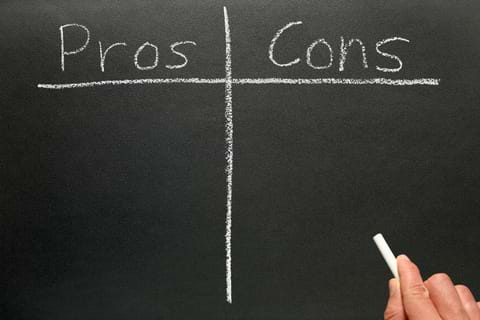 2 Crucial Items Required to Start a Party Rental Business
Perhaps you're an equipment rental company, looking for a way to add additional revenue through the expansion of your products and services. Perhaps you're a catering company looking to service a greater portion of your clients' needs. Or, perhaps you're thinking of starting a new Party Rental business and not sure where to start. Whatever the case may be, when looking to expand your revenue there are a number of crucial items that it makes sense to begin stocking as additional revenue generators.
Restaurants
Podcast: How to Focus on Catering to Transform Your Restaurant
I stumbled across a podcast I think is a gem for anyone in the restaurant industry looking for additional ways to build revenue. Mark Deo, Veteran CBS Radio Host interviewed a man by the name of Erle Dardick, author of the books "Get Catering and Grow Sales!" and "501 Killer Marketing Tactics for Cranking Up Your Catering Sales". Erle joins Mark's podcast entitled "The Small Business Hour, as heard on CBS Radio" to discuss how focusing on catering helped transform his restaurant. To listen to the full podcast – click here.
[Infographic] The Top 35 Restaurant Apps Consumers Are Using Right Now
As a restaurant, including your establishment on the top 35 restaurant apps that consumers are using right now – ensures that you're putting your best foot forward and getting found where consumers are looking for you. We found an infographic on Visual.ly by Pizzamarketplace.com, fastcasual.com and QSRweb.com that summarizes the top 35 restaurant apps consumers are using right now.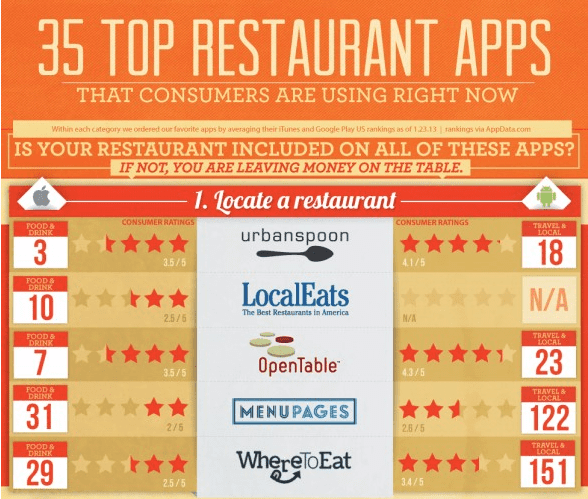 Menu Optimization: Three Ways to Help Your Outstanding Menu Items Take Centre stage
A restaurant's menu is its single most important marketing tool once a patron is in the dining room and even when the decision process is being made whether to eat out. Menu design has widely been touted to help increase sales and hook prospects into a sale – but have you focused any attention on your menu to ensure its doing you justice? This article outlines 3 key tips restaurateurs should do to optimize their menus to get the most marketing mileage possible.
The 2013 Hospitality Market Report
Canadian Foodservice and Hospitality magazine detailed how the 2013 hospitality market fared in their annual report. One noteable quote from the report states that "while baby boomers represent a significant portion of restaurant sales at 26 per cent, millennials, in fact, represent 28 per cent of all restaurant meals consumed, NPD Group's [Robert] Carter says. "A lot more operators are targeting that [group], because it's the largest cohort next to boomers." To read the full report including the state of the 2013 market, click here.
Catering
Staff Training That Pays Off
With service attributing highly to an event attendee's overall satisfaction, caterers cannot afford poorly trained staff members working events. This article from Catersource has some excellent guidelines on how to train staff properly for events.
Take it outside: Adding more control to outdoor events
Many dream of having events outdoors during the warmer weather – but sometimes the anxiety associated with lack of control of the weather can deter those from actually making a go of it. While you can take the route of a more controlled indoor event, adding control to outdoor events is possible. Check out this article in Special Events Magazine on tips to ensure you select a caterer experienced with the outdoors.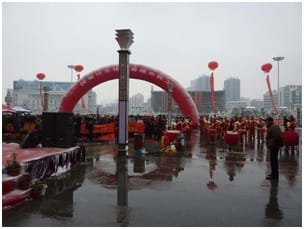 Dominate the Catering Industry with These 5 Killer Techniques
Like most businesses, as a caterer, you're looking to dominate your industry in a market filled with competition. In Toronto, when wedding season seems to last a few months, it takes a creative company to find new ways to generate revenue to ensure the "slow season" has a consistent revenue stream. Check out these 5 killer techniques you can employ to dominate your market.
This will be our only post of the week – to allow our staff to enjoy some time with their families over the holidays. Make sure to tune in next week on December 31st, 2013 where we'll be outlining our top 10 most popular blog posts of the year – most viewed by you!