This winter has been particularly rough for Canada and it seems to be having a hard time letting go. With spring on its way or already here in some of the country, a lot of Golf Courses are starting to prepare for the upcoming season. When working on the events and weddings taking place at your venue this event season, ensuring you have the proper chairs in place for your upcoming events can help you win more event business – especially outdoor weddings. While Gold Chiavari Chairs are the hottest trend this year often when brides looking to optimize their budgets see how much chiavari chairs cost to rent they start looking at more cost effective options.
Enter the white resin folding chair or black resin folding chair.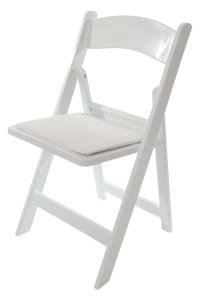 These chairs are perfect options for brides looking for high-style at lower costs and they're perfect options for golf courses looking for high quality strong chairs. Check out 4 reasons why these chairs make a great option for outdoor events.
1. Stack easily:
Golf Courses and event venues looking for chairs that don't take up a lot of space will love the fact that these folding chairs are stackable and folding chair carts can be purchased to easily transport 30-40 chairs per cart (depending on the height of the door you're going through).
2. Low Maintenance:
Because these chairs are made of resin that is the same colour throughout, you won't have to deal with scratches showing up should wear and tear occur. Also, because the seats are not fabric but vinyl – staining does not occur.
3. Strong and Durable:
Because we want to ensure our chairs can withstand the wear and tear associated with multiple events we have stress tested a number of our products by piling bags of salt on them. The white resin folding chair broke at 750lbs in this video – How much weight can a white resin folding chair hold? Because black padded folding chairs are made of the exact same material as the white resin chairs, you can assume they would have the same break point.
4. Good return on investment:
Wholesale white resin chairs sell for a range-between $29-$41.00 CDN. Assuming you are offering these chairs at an additional cost at your venue, most golf courses and venues recoup their initial investment after 3 – 5 events utilizing these chairs. As these chairs last well beyond 3-5 events (we have customers that rent these chairs out for years) they are the perfect wedding or event product to make additional revenue on for years to come.
There's obviously a business case for Chiavari chairs and as we sell them there's obviously venues, golf courses and party rental companies that buy them but if you're looking for an alternative, stylish and cost-effective chair option for outdoor weddings or events, consider the white resin folding chair.