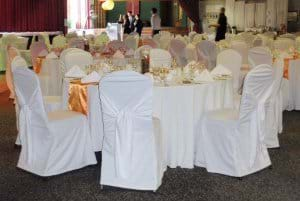 While buying wedding linens direct is quite prevalent in the United States, finding good quality, seamless wedding linens wholesale in Canada can be a more time consuming and difficult task. One of the questions that we often get asked is where to buy wedding linens direct in Canada. Besides National Event Supply (who as you may or may not know just introduced a new line of polyester linens and spandex linens), here are 4 companies you can purchase wedding linens direct from:
1. LinenTablecloth
While they are based in the United States, LinenTablecloth has a Canadian ecommerce site that allows event venues and others purchasing tablecloths to buy wedding linens direct from their website. Shipping is out of Memphis, Tennessee and they will pay brokerage and duties associated with linens crossing the United States/Canada border (often a surprise cost associated with shipping linens from the US).
2. EventDecorDirect
Again based in the United States with a Canadian Location, EventDecorDirect stocks fancy table skirts, chair covers, and stretch cocktail table covers.
3. Tricific
Based in Markham, Ontario with a secondary location in Quebec, Tricific has been around since 1967 supplying restaurants, hotels, banquet halls and party rental companies with table linens, table skirting and cloth napkins.
4. Canadian Hotel Supply
With several American locations, Canadian Hotel Supply is owned by American Hotel Register co, and co-leases warehouse space in Toronto and Vancouver to offer hotels, restaurants and other companies with table linens and other foodservice supplies.
So there are 4 companies to consider if you're getting quotes or pricing for your restaurant, party rental event venue or hotel. The key to a great experience with purchasing wedding linens direct is:
The durability of the product
The value of the product
The quality of the product
Hopefully, in your case, your experience with wedding linens will be an exceptional one.
While our primary target market has traditionally been selling wholesale event equipment such as dinnerware, flatware, folding tables & folding chairs to the party rental industry, we just recently introduced a new line of event linens that we've been told are a great value to help make sure your budget is spent on the wow factor.
If you're interested in learning more about our new linens: