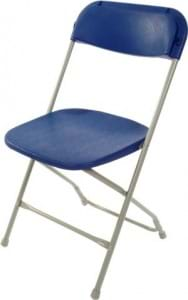 Plastic folding chairs are a great addition to any venue that holds events as well as being a great inventory item for party rental companies to stock. There is quite a difference in price that exists in plastic folding chairs in Canada. Note that this blog post examines commercial quality plastic folding chairs that have been stress tested for high wear and tear industries such as party rental. This blog post will attempt to clarify why the price variations exist and what to look for high quality plastic folding chairs in Vancouver, plastic folding chairs in Alberta and anywhere in Canada for that matter.
Cost of Plastic Folding Chairs in Canada:
Plastic Folding Chairs come in a wide variety of colours including in a black plastic folding chair and a white plastic folding chair. Traditional plastic folding chairs are the least expensive of the plastic event chairs. This is mainly due to the fact that the cost of materials and production for a plastic folding chair is cheaper. There are numerous pricing components when purchasing wedding white plastic folding chairs that influence the cost – the materials being used in the plastic folding chair frame and whether the chair is sold on volume discount levels or at a set price. The average plastic folding chair will cost $12.49 to $19.59 CDN, depending on the quality of the chair, the type of plastic and metal used and how strong / durable the chair is. Plastic folding chairs can hold between 400 – 800lbs. Typically, with all types of plastic folding chairs, the larger volume of chair you buy, the lower the cost of each chair.
Shipping costs of Plastic Folding Chairs:
The shipping costs of these chairs usually run $1.50 – 8.50 per chair depending on the size of the order (shipping costs tend to decrease based on volume), where it is shipping from and where it is shipping to. The shipping costs do not vary based on the type of chair purchased but solely on volume, weight and shipping location. Nationally based event suppliers will have multiple warehouses across the country to provide better shipping rates coast to coast.
If you're interested in purchasing some of National Event Supply's Reliable Plastic Folding Chairs featuring a 2 year manufacturing and material warranty: