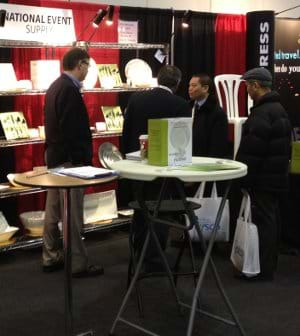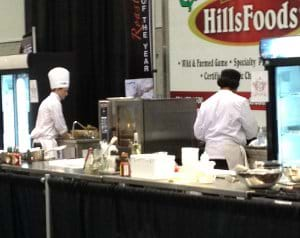 Sunday was a great day to be at the BC Foodservice Expo in the Vancouver Convention Centre. For the 1st couple of hours, David Adjey of Restaurant Makeover fame could be seen walking the show floor and speaking at the BC Chef's Cooking Competiton (which was right beside our booth)
Dennis, Jonathan and Tony (our AE Sales representative in Vancouver) had a great time meeting with new Customers and a few old Customers throughout the day. We met with Sue Enns of Sue's Catering out of North Vancouver and Sue echoed the sentiments of many of our other new visitors who stopped by our booth on Sunday 'your prices and quality are amazing'. Sanjeev Ghirra of Riverside Banquet Halls had a long discussion with me about their requirements for items in their banquet facilities. It was great meeting with everyone who stopped by our booth. Attending these tradeshows in Vancouver allows us to meet face to face with our customers and is incredibly valuable as we continue to grow our product selections.
With so much going on the BC Foodservice Expo is a great chance to see what's new and excting in the Foodservice industry. We had a great time watching the Chefs' competitions again this year. It's always impressive watching a great meal come together. As the show ends, I can safely say that we look forward to returning to the show in 2013!