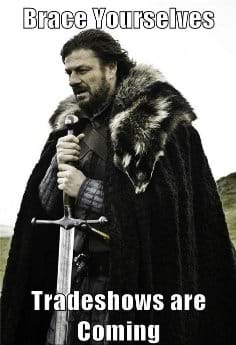 As the year ends, tradeshow time begins at National Event Supply. In November we exhibited at the Golf Business Canada Show which was held at the beautiful Fairmont Chateau Lake Louise in Lake Louise, Alberta. The snow was out in full force and it was pretty darn cold as well.
As part of our Show Special, we gave away a FREE NES Reliable Wedding-Style Resin Folding Chair to each Golf Club that met with us at our booth. These chairs are incredibly popular and are great for the many outdoor weddings that take place at Golf Clubs across the country.
Show attendance was up nicely over 2010 (which was also up over 2009) and we were able to meet several new Golf Clubs as well as meet with a few of our current customers including Brenda O'Reilly and Michael Todd from Stone Tree Golf (http://stonetree.on.ca/). We also had the pleasure of meeting Jeff Calderwood the CEO of the National Golf Club Owners Association on the show floor.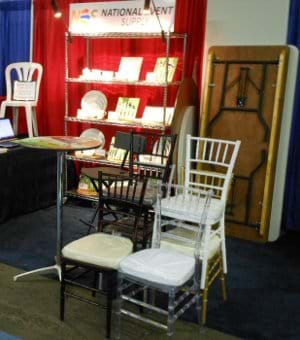 As memories of the Christmas rush and New Year's Eve parties faded, we started our 2012 tradeshow schedule. On January 12th, I flew out to Vancouver to exhibit at the CRA BC Regional trade show which was held in the Show Barn on the grounds of the Cloverdale Rodeo and Exhibition Centre in Langley, BC. Our west coast sales reps, AE Sales, provided us with the booth space necessary to present a range of our most popular dinnerware and cutlery lines including Quadrato Square dinnerware line and Maria 18/10 cutlery. We also had samples of our best-selling NES Reliable Plastic Folding Tables and plastic folding chairs along with our Chiavari chairs. Will Stayer and Tony Shelling from AE Sales helped answer questions from several inquisitive visitors. Dale from the Rent-It Centre in Sechelt, BC commented that he has been coming to the CRA BC Regional show for more than 12 years and this was the first time they had ever seen an exhibitor representing the Party side of the Rental business. We were excited to meet many new customers at the show along with some of our stalwart regular customers like Rhonda Pedersen from Pedersen's Event Rentals.
During the show, we had the pleasure to meet Ted Cook, the outgoing President of the American Rental Association. Ted is the General Manager/Owner of the Ventura Rental Center in Los Angeles, California and was one of the keynote speakers for the Awards Banquet Dinner.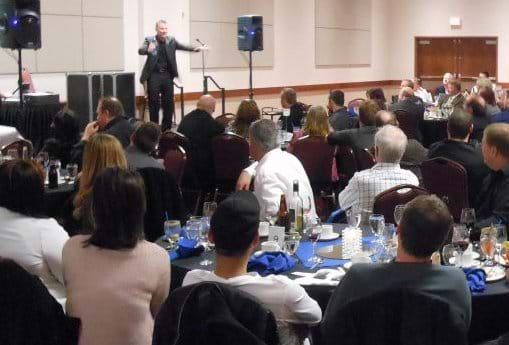 After the two days of exhibiting, everyone headed to the Coast Hotel & Convention Centre/Cascades Casino for the Saturday evening Awards Banquet Dinner. As you can see, we had a full house in the banquet hall and we weren't disappointed. After a fabulous dinner we were entertained by Michael Harrison, a Ventriloquist/Comedian and a finalist on the 2008 America's Got Talent. Michael did a number of his trademark skits, including his first puppet, Mr. Tennis Ball and Dunlop and his Human Puppet routine that won him huge accolades from the judges on America's Got Talent. Michael performed for almost an hour and had us laughing in the aisles.
After the dinner a number of awards were presented to various members of the CRA BC Local. Ted Cook, ARA President presented the CRA BC Local with an award for the greatest membership growth of all State and Provincial locals across the United States and Canada. Congratulations to the CRA BC Local for a great accomplishment as well as for hosting such a great 2 day event. We will definitely be recommending that all of our BC Rental Customers make plans to attend next year's show.
Our next tradeshow is also in Vancouver. We're going to be at the BC Foodservice Show which will be held at the Vancouver Convention Centre. I hope that if you're at the show, you'll stop by Booth 138 and say hello to Jonathan, Tony, or myself and take a look at everything that we have on display.