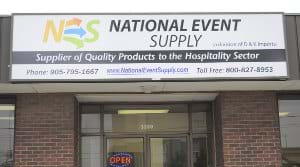 We`ve had a busy few weeks again at National Event Supply. After renaming our company back in the spring we finally got around to changing our building signage. The next time you drop by be sure to take good look at our new overhead sign. The sign looks fantastic, if we do say so ourselves. A big thanks to Bob at Whitehorse Signs for helping us make the changes in a cost effective manner. Bob was extremely professional and made sure we kept the proper balance with all the removals and additions that were made to the sign.
We also received a number of shipments in the last week which has helped our inventory position quite dramatically. Last year it was our NES Reliable 8ft rectangular Plastic folding tables that we couldn't keep in stock, this year it's been our NES Reliable 6ft rectangular Plastic folding tables. They have been flying off our warehouse shelves just as fast as we've been able to get them in. We have finally caught up with the increase in demand and should have lots of all sizes of Plastic folding tables available for the busy fall season.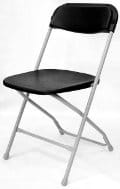 After the early summer mix-up from our supplier where they shipped us Black on Grey plastic folding chairs, we once again have a good supply of our NES Reliable Black on Black plastic folding chairs back in stock. For those Customers where the colour isn't a big deal, we still have a few Black on Grey chairs available at the special price of $10.00/chair. They come with our 2 year material and manufacturing warranty and at this price it is almost a 30% discount off our everyday great value prices. They won't last much longer so be sure to give us a call if you are interested.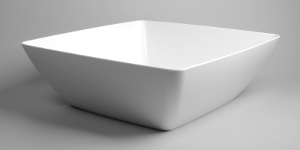 Finally we have also expanded our line of great looking melamine products. These products offer the clean good looks that come with porcelain, but are significantly more durable. After speaking with a number of our catering and rental customers we kept hearing they needed a large bowl that could handle rougher use than our very popular 14" Round Porcelain bowl. We're proud to offer this bowl to all of our customers and hope that it meets their needs.