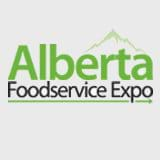 We just got back from two days of exhibiting at the Alberta Foodservice Expo which was held in the BMO Centre on the grounds of the world renowned Calgary Stampede. Albertans came from all over the province to visit the show. We met with Leanne from the Longshots Sports Bar and Lounge from Fort McMurray, Donald from the Wok Box in Grand Prairie and places I had never heard of before like Greg who is from the Cactus Pub & Grill in Picture Butte, Alberta. Of course there was lots of visitors to our booth from Calgary in attendance and a number made the trip down from Edmonton.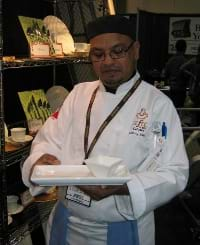 The highlight of the show came when Narry Saini wanted to borrow some National Event Supply plating dishes for his food presentation in the Cooking Competition held during the show. Narry is an Executive Chef with Oh! Canada Restaurant & Bar in Calgary and is also on the board of the Calgary Academy of Chefs & Cooks.
Will (Stayer) and myself had a great time meeting everyone at the show and particularly enjoyed the fresh home-made muffins that Duane from Pearson's Berry Farm brought around to us just around lunch time on Monday. Duane was one of the fresh and local exhibitors who was just across from our booth. Their Muffins are to die for.
We are looking forward to returning in 2012. There is a possibility it may alternate to Edmonton for 2012 which would give our Northern Alberta customers an easier opportunity to see our products on display as well as meet some of our staff at the show.
On a side note, if you are planning a trip to Calgary, I highly recommend staying at the Westways Guest House. This bed and breakfast is just a 10-minute walk to the south entrance of the Stampede Grounds and is close to downtown as well. There are some great walking paths that travel alongside the Elbow River that are only minutes away from the house and the Calgary Arts District is also very close by. And the breakfast you are provided with in the morning is just amazing. Don and Ross were helping out Jonathan who was away on vacation and the service they provided was just fabulous. Great place to stay and great prices too!