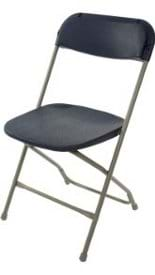 We are pleased to announce the introduction of our first ever Table & Chair Catalogue. This is the culmination of more than a year of work by Jonathan and Michael to pull together the wide range of products we offer with high resolution print quality pictures and product descriptions and specifications. This catalogue will have listings for virtually every type of table and chair that we sell. You'll be able to learn more about our NES Reliable Plastic Folding Tables and NES Reliable Plastic Folding Chairs. You'll also be able to check out our very popular NES Reliable Wedding-Style Resin Folding Chairs and our new NES Resin Chiavari Chairs.
If you would like a copy of our first ever Table and Chair Catalogue, just give us a call, send us an email or fill out this form. We would be pleased to mail you a copy free of charge.
We are also working on a Tabletop Catalogue which will have a snapshot of our wide range of dinnerware, flatware as well as platters and bowls that we offer to our Hospitality/Foodservice customers. We hope to have this catalogue completed before Christmas. In addition, we are also working on translating both catalogues into French for our Quebec based customers. Stay tuned for future information.