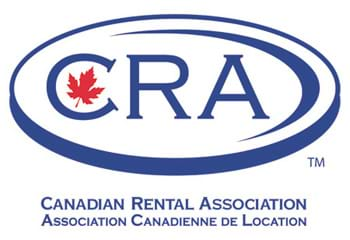 The annual CRA Ontario Golf Tournament was held September 15, 2011 at Trehaven Golf Club in Hawkstone, Ontario. The shotgun `bestball` tournament started at 11:00 am with members and suppliers teeing off from every hole on the course. The tournament was a great opportunity to raise some funds for the CRA Ontario Association as well as celebrate the 50th anniversary of the establishment of the CRA Ontario local. CRA Ontario was the first local to be established in Canada for the Canadian Rental Association.
Attending the Golf day from National Event Supply were myself, Jonathan Heathcote and Bill Winslade. We had the pleasure of golfing with Andrew Paquette the Chairman of the Canadian Rental Association and recently Past-President of the CRA as well as Past Executive Board Member of the American Rental Association. Andrew is also the President of Bravo Location Rentals in Montreal, Quebec. While the weather was somewhat co-operative for the day, we did get a little wet on a couple of holes. We were very fortunate that Andrew remembered to bring his extra-large golf umbrella so that all 4 golfers could keep dry in between shots. We had a great time throughout the day and were thankful to have Jonathan in our foursome otherwise we would had a much higher score than our 8 over par.
The highlight shot for the day occurred on the 167 yard par 3, - 18th hole. Jonathan put us close to the green with a great drive shot that was pin high and about 20 feet off to the right of the green. We then had about a 50 ft shot to make the hole. Andrew was 2nd up on the hole and proceeded with a great chip the landed on fly onto the green, hit the pin and dropped in for a Birdie.
After golf everyone enjoyed a great steak dinner and some libations. The day was wrapped up with the presentation of numerous awards to some of the more successful golfers, awarding of the raffle prizes and speeches from Mike Maltby, the President of CRA Ontario and Wayne Beckett, the President of CRA. We would also like to extend our personal thanks to Wayne who travelled all the way from Moosomin, Saskatchewan and Andrew who flew in from Montreal to attend the Golf tournament and help celebrate the 50th CRA Ontario Anniversary.
Next year's CRA Ontario tournament is tentatively scheduled for Wednesday, September 12th, 2012 at the Nottawasaga Inn Resort & Conference Centre in Alliston, Ontario. We look forward to seeing everyone there!