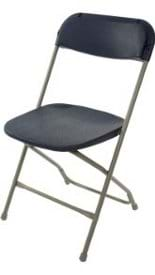 A question we frequently get asked is how to tell the difference between a good quality plastic folding chair and one that can't handle the rigours of the rental industry.
One of the best ways to figure out if you are buying a good quality plastic/poly folding chair is to take a firm hold of the seat back with your hands and to give it a twist. The seat should have some give and flex under the pressure as you twist the seat back. If it feels too rigid, there is a good possibility the chair you have selected has too much recycled plastic in it and will therefore be 'brittle' and very susceptible to breaking under many different conditions. Breakage will occur when the weather in the northern parts of the US and Canada gets colder or when the chairs are handled a little more roughly.
Since we often cannot wait until winter sets in to check to see how the sample chair performs in sub-zero weather, you can perform a quick and easy test on a sample chair. The hammer test is the easiest way to make sure that they chairs you are looking at use virgin plastic. I must admit I have to give credit to one of our customers, Parkland Party & Equipment Rentals in Red Deer, Alberta for telling me about this particular test. All you need is a typical 16 ounce hammer and the sample plastic folding chair you wish to test for long term durability. Give the back of the seat on your sample plastic folding chair a few whacks with the hammer. If your sample poly folding chair breaks, you know it isn't a good long-term buy.
If you are looking for a cost effective, lightweight, but durable and reliable chair that will support the majority of people that attend weddings, concerts, parties, business meetings and the like, then our NES RELIABLE Plastic Folding Chairs are the ideal solution. These chairs have been stress tested to support a 225lb drop test from 6 inches above the chair and do not fail. In addition, they contain only virgin plastic with a high tensile steel frame that will provide many years of use and enjoyment for your business. In addition, our NES RELIABLE Plastic Folding Chairs come with a 2 year material and manufacturing defect warranty. These have been an excellent performing chairs for all our customers.
We are currently stocking 7 main colours: Black seat and back on a Black frame, White on White, Burgundy on Grey. Grey on Grey, Tan on Tan, Brown on Tan and Slate Blue on Grey.