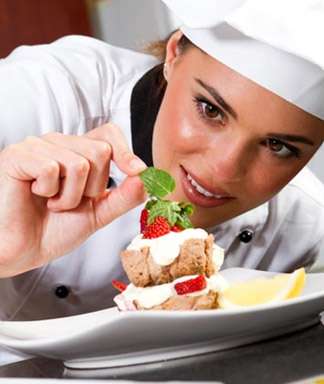 Last week I opened the August issue of Canadian Restaurant & Foodservice News and was quite frankly appalled by one of the articles I saw. The article was titled "Women of Influence" with the subtitle "Women leaders are good for business"…Women. Leaders. Are. Good. For. Business.
Is this not 2014? Women leaders are good for business just as much as men leaders are good for business. Both genders have been scientifically proven to have different ways of looking at issues and opportunities that can heavily benefit an organization that embraces a gender-balanced leadership team. This is actually not an attack on the magazine or the article author. I am a huge fan of this magazine and frankly I applaud them for writing a piece about the lack of women in the foodservice industry who have career aspirations to the senior leadership. I'm just so astounded and taken aback by the fact that in this day and age, when Amazon is testing drone delivery of packages that women are still dealing with biases (whether unconscious or otherwise) and a lack of leadership positions across the country.
Perhaps it was because I was raised in a household that focused more on who I was, what I thought and how I acted than my gender. I was raised to believe I could do anything that my younger brother could do. Did I want to do everything my younger brother could do? Hell no, but having the option there without it being taken away from me gave me the freedom to choose whatever I wanted to pursue in life. I'm just so disappointed that this article needs to exist to coach women to take responsibility for their own careers. Where is your passion, ladies of the foodservice industry? This is an industry that takes no prisoners. You invest blood, sweat and tears into this industry. You owe it to yourselves to step up to the plate and make an investment in yourself.
The article in Canadian Restaurant & Foodservice News does a fantastic job at profiling women of influence in the corporate foodservice world. But that's not the only way for women to succeed. Just look at what happens when women make the investment in themselves. Lynn Crawford, owner of Ruby Watchco, trained at George Brown College in Toronto, worked her way up the ranks to become the executive chef at the Four Seasons in Toronto and New York before competing on the Food network's Iron Chef America and subsequently debuting her own Food Network Canada show. Rose Reisman is an intelligent and innovative entrepreneur who began her career by self-publishing a cookbook in 1988. Since then she has extended her brand into a multitude of businesses including a catering company, a daily food delivery service as well as a personal website devoted to preventing diseases such as obesity, type 2 diabetes, heart disease, high blood pressure and other diseases controlled by lifestyle and nutrition. Note that their paths were not through the corporate foodservice world but through employing passion, innovation and entrepreneurship to succeed as women of influence. These are just a small number of women who have pursued a path to career success. Looking to them as an example should hopefully show women of the foodservice industry that are struggling with unconscious or conscious gender biases that there's more than one avenue to career fulfillment and success.
Take a read through the article and let me know your thoughts. I'm interested in hearing your views on women in the foodservice industry. Do you agree with the article? Tweet us at @NatlEventSupply or comment on our Facebook Page.