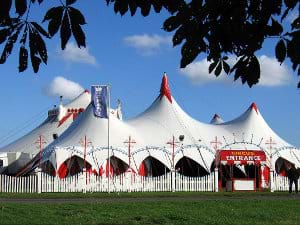 Event and Party Tents are a great way for event coordinators to extend the life of hosting outdoor events. Especially in Canada when it can be so cold and snowy, Tents offer a great alternative to an indoor event – but only when they're properly heated so guests are comfortable. Though we don't personally sell party tent heaters, our customers are leading party rental companies and tent rental companies who are potentially looking to purchase a party tent heater. We're interested in helping our customers make informed decisions regarding ANY of the purchases they make for their businesses– regardless of whether we sell it or not. Because of this, we're answering the important question Who sells the best party tent heaters in Canada?
Based in Onalaska, Wisconsin, L.B White is a manufacturer of propane, natural gas and kerosene heaters for a wide variety of industries including tent environments. Founded in 1952, they offer direct fired forced air, radiant and indirect fired heaters in a arrangement of heat outputs, ignition types and installation options. Designed and approved to be placed either inside or outside a tent space, they also have a full line of tent heater ducting accessories to help tent rental and party rental companies create custom solutions for their customers.
Based in St. Catharine's, Ontario, Flagro Industries is a manufacturer of portable heaters, commercial bbq grills, propane torches and air movers. They have a wide variety of commercial portable direct fired heaters and indirect fired heaters which range in BTU/hr from 85,000 to 1,500,000. Founded in 1978, Flagro offers heaters in oil, diesel, propane or natural gas fuel types.
Based in Winnipeg, Manitoba, Frost Fighter manufactures heaters from 200,000 to 1.5 million BTU in propane/natural gas or oil/diesel. They claim on their website that they set the industry standard with proven reliability in the harshest environments from the Andes Mountains to the most Northern regions of Canada and Alaska. In business for over 35 years, Frost Fighter has 4 indirect fired heaters available in the market while marketing two direct fired heaters to the market.
Hopefully this post sheds some light on who to go to and receive the best party tent heaters in the market.