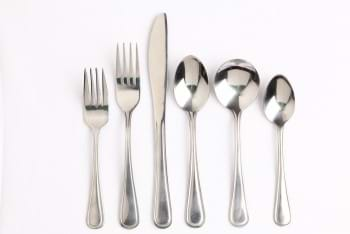 We have been in the special event equipment business since 1992 and have naturally found an easy transition into restaurant supply and catering supply. Since introducing dinnerware and stainless steel flatware back in the middle of the 90's we have become familiar with the best flatware suppliers in Canada so we're able to better understand what the market wants in terms of the best flatware. Here are the best flatware suppliers in Canada for party rental companies, restaurants and caterers.
1. Oneida Flatware:
Oneida has long been a leader in the stainless steel flatware industry and as such can charge premium pricing with a solid brand name to back them. Oneida Flatware is manufactured by Oneida and sold through large department and big box stores, through restaurant supply stores such as Hamilton Store Fixtures, and other foodservice distributors.
2. Nella Cutlery:
Nella is a well-known Toronto restaurant supply store who manufactures restaurant equipment and distributes a number of other cutlery manufacturers including Winco, Vollrath, Tableware Solutions as well as our distributing our next supplier, Browne.
3. Browne Foodservice:
Browne & Co has been around for more than 50 years and manufactures stainless steel cutlery along with additional tableware products. They also distribute numerous US and European brands throughout North America.
4. Sysco:
Sysco is a global leader in selling, marketing and distributing food products to restaurants, healthcare and educational facilities, lodging establishments and other customers who prepare meals away from home. Its family of products also includes equipment and supplies for the foodservice and hospitality industries. Sysco sells 3 different patterns of stainless steel flatware in a 5 pc table setting.
Always make sure that when you're buying the best flatware, you're looking at the following:
The durability of the product
The value of the product
The quality of the product
The availability of the product
National Event Supply supplies our own lines of stainless steel flatware. We have a range of 18/0 stainless steel and 18/10 stainless steel flatware and stock similar patterns as Oneida, Nella, Browne and Sysco. If you're interested in checking out the flatware we have to offer, view more information on our flatware lines.