I know that whenever I'm looking for a new product for myself, I am looking to purchase the best product. Same thing applies in business. We're looking to purchase the best product that our business can afford. For special event companies that are looking for a cutlery polisher that dries, polishes and eliminates spotting on cutlery, there's obviously a need to know what the best cutlery polishing machines are available on the market.
I've researched and listed the best cutlery polishing machines for special event companies below for your easy reference as you're looking to make this purchasing decision.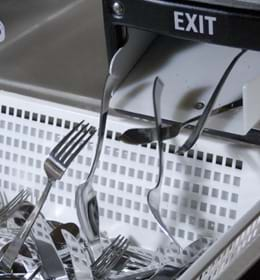 Sammic Cutlery Polisher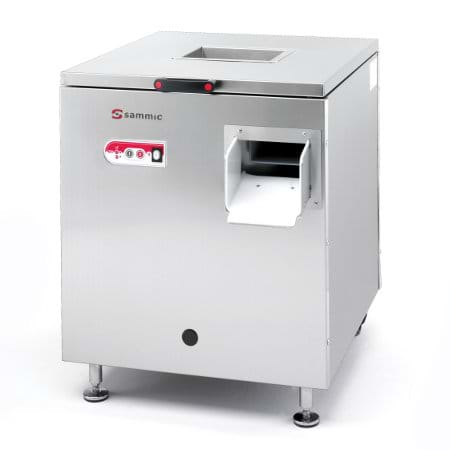 Made in Spain, Sammic has three different models for their cutlery polishers: a tabletop unit outputting 3000 pieces per hour, a floor standing unit outputting 8000 pieces per hour and a second floor standing unit outputting 8000 pieces per hour that comes with a motor brake which shortens the stopping time, reduces vibrations and improves the durability of the machine. All three units are equipped with the following:
Fully automatic
Stainless steel exterior with a Stainless steel drying tank
Rounded cutlery carousel which avoids cutlery jams
Lights and sounds indicating when machine is done
Lights indicating if heating elements are activated
Lights indicating that the polishing product must be replaced
Drying and polishing cycle with automatic stop after use
UVC-ray germicide lamp sterilizes both the cutlery and the drying product
Sammic cutlery polishers are available in Canada through Permul Foodservice Equipment.
CPI Silvershine Cutlery Dryer/Polisher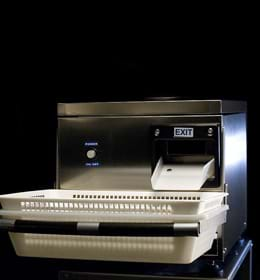 Made in USA, CPI Silvershine has four different models of cutlery polishers: CDM-Star which outputs 1500 pieces per hour, CDM-2K which outputs 2000 pieces per hour, CDM-6K which outputs 6000 pieces per hour and CDM-12K which outputs 12000 pieces per hour. They were awarded the 2007 Kitchen Innovations award at the National Restaurant Association show. All four models come with the following features:
A 9-11W ultraviolet (UV-C) lamp operating at a peak of 253.7 nm for a safe, chemical-free germicide process
Sanitation option can be engaged/disengaged manually
Machine self-diagnoses on start-up
Patented stainless steel NAUTILUS tub
Calrod heated tub provides consistent heat
Internal timer monitors granulate change periods (Every 400 hrs)
Operates automatically at 30-40 seconds per piece
Quiet and vibration free
CPI Silvershine is available in Canada through GBS Food Service Equipment.