It's hard to believe that July is almost over. It seems like just yesterday that we were bundling up against the cold and using road salt for something other than showing how strong our wood and plastic tables are. While July may be gone, there is still a month of summer left. There is still a month of sitting on the patio at your favourite pub, bar, bistro, or restaurant, drinking cold beer and enjoying the dying sunlight at the end of a long day. Yes, my friends, August is still to come! And if you've been dealing with rain, or other inclement weather, there is still a chance to make your patio a glorious destination for those who seek nothing more than to savour every moment of a fleeting summer.
Back in Stock: Bistro Chairs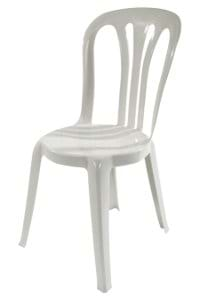 It always seems that we're short an item as summer hits its stride and this year is no exception. After a bit of a slow start, we managed to completely sell out of our White Bistro Chairs. When we realised we were going to run out of the perfect chair for patios and outdoor events, we got on the horn and ordered a container to be shipped to us tout suite! And make no mistake; they are the perfect chair for the patio. They're incredibly comfortable and incredibly strong, perfect for lazy days tipping back a few brews. Unlike patio chairs that you can pick up at any big box store, these chairs won't buckle or collapse when a larger customer takes a seat. And with their curved and textured seat, your customers can sit in comfort while they peruse your menus. Our NES Reliable Bistro Chairs come in black or white and ship from our Toronto Warehouse. They are priced at $19.95/ea and go down in price with volume.
Beer Glasses
If you're in the rental business, it can be tough to find beer glasses that have attractive prices and don't require beer goggles to get past the ugly. Luckily, National Event Supply has you covered. In our Eclisse line we have two different sizes of Beer Glass that would be perfect for any event that you may be hosting. Our 12oz Beer Glass is almost 7 inches tall with a nice thick base to prevent tipping. We also have a 14oz Beer Glass that has a bit of a stem and a bowl a bit like a wineglass. One might call it chalice shaped if one were a bit pretentious. Our 12oz Beer Glasses are $1.75/ea and our 14oz Beer Glasses are $1.85/ea.
Ribs are Nice, Steak with all the Fixin's is Nicer
In a previous blog article, Jonathan showed off his barbequing prowess with some gorgeous BBQ Ribs. When he showed me the pictures of those succulent ribs with that spicy sauce sizzling over a low fire, the sugars carmelizing… I wanted them. It didn't matter that it was 9am—those ribs looked like a little piece of heaven.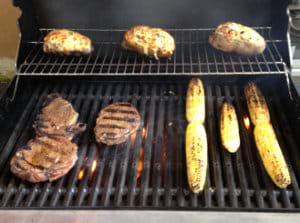 I went home and thought about it and decided that I needed to see if I could surpass his barbequing skills. Behold the fruits of my labour! Beautiful, thick rib-eye steaks; twice baked potatoes overloaded with cheese, chives, and goodness; and some fresh corn, grilled to enhance its flavour. This glorious meal was served on our Angelika Dinnerware, and was followed by a tangy key-lime pie.
Enjoy Summer, My Friends!
It may be hot. It may be sticky. Highways may be crammed with cars and constantly being repaired. But in 6 months when winter has taken hold of the country and the Christmas decorations are being put away for another year, you'll miss summer. You'll miss laughing with friends on the patio; drinking ice-cold margaritas on hot, humid days; and the feeling you get when the sun beats down on your face. Enjoy summer, my friends. And if you need some bistro chairs for your patio, or beer glasses for an event, don't hesitate to drop us a note.