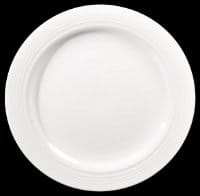 Getting into porcelain dinnerware can be an expensive proposition for catering and party rental businesses as well as restaurants. You have to be ready for the additional labour required to prepare dinnerware for rental (or for service) and it can cost a pretty penny to get the equipment necessary to keep your plates clean and looking their best. And then there is the cost of the dishes themselves. Some large distributors charge $20-30 for commercial grade porcelain dinner plate. Add side plates, dessert plates, teacups, and saucers—the costs quickly add up. So what are some ways for you to make sure you get dinnerware that will last and make your porcelain expansion a success?
1) Stick with the Classics
Fads come and fads go, as anyone who had an avocado-coloured fridge can tell you. Investing in a plain white set of dishes may sound boring, but buying dinner plates in this year's colour can quickly date your inventory and lead to decreased rentals as other colours become popular. In addition, because trendy colours do fade in popularity, you need to charge higher prices to recoup your investment before the trend changes. Your customers may want the trendy colour, but may not want to pay the price for it. If you're just starting out in dinnerware, you want to start with something simple and as your dish business grows, you can expand into areas where you are seeing demand.
2) What are replacement dishes going to cost me?
When you set out to purchase a large quantity of dinnerware, suppliers may be willing to offer you a tremendous discount to go with their line. The question to ask is what will it cost me to replace a dinner plate. You're likely to find that your supplier won't be offering any discount on replacements. Breakage is a fact of life with porcelain, and replacing damaged plates can quickly eat up any profits that you may have made. When investing in a line of dinnerware, you should determine what your replacement costs will be and budget for replacing a portion of your dinnerware each year.
3) Know what you're buying
Not all porcelain dinnerware is created equally. Additives can be added to Porcelain to increase the strength of the dish was well as reduce its susceptibility to chipping. One porcelain additive that does that is aluminum oxide. Aluminum Oxide mixed in with the porcelain before molding and firing will make the porcelain stronger, more chip resistant, and therefore better suited to a commercial environment. Some porcelain also has design feature like rolled rims which also reduces the chances of a plate chipping.
National Event Supply has several porcelain dinnerware lines that are perfect for those looking to get into the dinnerware business. One that we highly recommend is our Hotelier Line.
If you would like to get a free quote for our Hotelier Dinnerware, click the link below. We would be more than happy to send you a quote.