Late February, right after The Rental Show is when things start hopping here at National Event Supply. We've been so busy that even with the Family Day long weekend, we haven't done a write-up about our time at the show. We had a great time meeting new people from all over the United States and Canada. From Alaska to Texas and from California to New Brunswick, we talked to a lot of great folks who were interested in our fantastic products. But I'll let Dennis tell you all about it later this week or early next.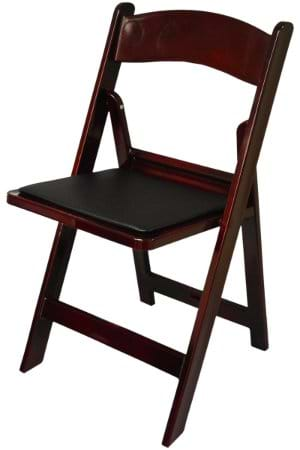 As a stocking warehouse, we always try to keep products in stock so that if you have an emergency and need 100 tables in Ottawa the next day, we can get them to you. Springtime always means big buys in our popular chair and table lines. Today we got a load of NES Reliable Resin Folding Chairs and our new Folding Pedestal Tables. In addition to the normal White Wedding Resin Folding Chairs and our increasingly popular Black Resin Folding Chairs, we received our initial shipment of our NEW Mahogany Resin Folding Chairs.
Our NEW Mahogany Resin Folding Chairs are the same shade of Mahogany as our Mahogany Resin Chiavari Chairs. The are as strong as our White Resin Folding Chairs and can pass the same stress tests that our white resin folding chairs passed with flying colours. The Mahogany Resin Folding Chairs have a mahogany resin frame with a black padded seat for added comfort. The Mahogany Resin Folding Chair is an attractive alternative to the standard white resin folding chair and would work well as seating for an event or around a table.
If you're interested in learning more about our NEW NES Reliable Mahogany Resin Folding Chair or about any of our other fine products, please don't hesitate to contact us.