I've finally had a chance to sit down and summarize our amazing week at The Rental Show 2013 which took place last week at the Sands Convention Center in gorgeous Las Vegas, Nevada.
Our trip began the day after a massive snow storm hit eastern Canada and the northeastern United States. Our home base in Toronto had more than 18 inches of snow while the Newark and New York City regions had 6 to 8 inches of the white stuff. While it wasn't snowing on Saturday, our departure was not exactly uneventful. Due to the massive storm, all of Friday's travellers were still in the airport waiting to depart. And planes that were normally in the air flying, were stuck on the ground under several inches of snow. After about five hours, which seemed like an eternity, our plane was finally brought to the gate and we departed snowy Toronto for sunny Las Vegas.
This year was our 8th year of exhibiting at the ARA Rental Show and we had our biggest booth ever. At 20ft x 30ft it was one of the larger booths in the Party and Special Event section of the show floor and we were right in the thick of the action. We were right beside Ben Shipper and his company EES (also known as Event Equipment Sales) from Chicago. Just a couple of booths away was another leader in our field, Palmer Snyder. Both of these companies are first class organizations that we are strive to emulate, both in the quality of our products and the level of our service that we offer. We spent all day Sunday setting up our booth so we could display all our products in the best light possible.
During the 3 days of the Rental Show we saw many of our current customers and had the pleasure of meeting with many new people. Laura and Bruce from Allied Equipment Rental in Michigan were very pleased to see us again after missing last year's Rental Show, and were interested in adding to their inventory of Tall Folding Cocktail Tables and Folding Counter Height Bar Chairs. We first met Bruce and Laura more than 2 years ago and they are seeing lots of customer interest in the NES Reliable Plastic Folding Tables and Chairs that they have in their inventory.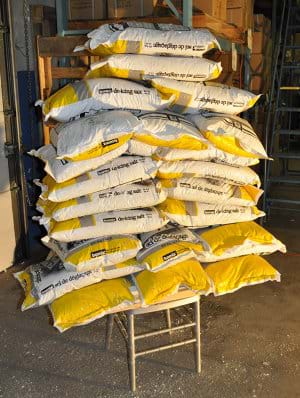 Early in this year's show, a lot of customers told us about how impressed they were with the quality and durability of the products we have to offer. We have talked extensively about the weight capacity of our Resin Chiavari Chairs and regularly tell our Customers they will easily support 500lbs of weight. In December, we decided to put this claim to the ultimate test and placed more than 1,000lbs on one of our Silver Resin Chiavari chairs. The chair came through with flying colours. So we were very happy to have Brian from Handy Special Events in Saskatoon bring Shelby from Over the Top Tents & Events of Eagle River, Alaska to our booth to show him our Resin Chiavari chairs. Brian purchased our Gold Resin Chiavari chairs in the summer of 2011 and was so pleased with how they have performed for Handy Special Events, that he was selling our Resin Chiavari chairs to Shelby without any help from any of Bill, Diana, Jonathan or myself. What a great customer and product testimonial!
We also saw quite a few customers from California who were impressed with the quality of our new plywood folding tables. As many party rental customers know, California is a highly competitive market with many party rental suppliers in a race to provide the best and lowest possible price for their products. As they have aggressively reduced the sales prices for their products they have also been reducing the quality and durability of the products they sell such that many of them are no longer rental tough products.
With our bigger expanded booth we had a larger selection of our product lineup including all our newest table top items such as our Serenity Crystal Stemware, our Eclisse Wine Glasses, our new Polar White dinnerware line, our 3 different sized Wing Bowls and Sloped Bowls along with our tried and tested Quadrato and Ovali dinnerware lines. Having all of these products available gave our rental customers an excellent opportunity to check out what we have available and make decisions about adding these highly durable porcelain products to their inventory in the spring.
At times we were so busy in our booth, we had 2 or 3 customers waiting to speak with one of our 4 staff. It looks like we may need to seriously consider bringing another staff member for the 2014 Rental Show. If you weren't able to get to the show and you'd like to get a copy of our new catalogue, please fill out this form and we would be happy to send one out to you asap.