Spring continues to roll on here at National Event Supply. We received containers at both our Vancouver and Toronto warehouses and in each case they brought us products that we didn't have in stock. At our Toronto Warehouse, we received a shipment of wood cruiser tables, and at our Vancouver location we received three new wood tables: NES Wood Serpentine Folding Tables, 5-ft NES Wood Half-Moon Folding Tables, and 8-ft NES Wood Folding Harvest Tables.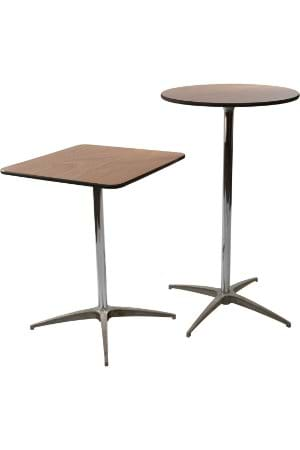 We've had NES Wood Cruiser Tables in our Toronto for almost two years now. Available in three sizes (24 inch, 30 inch, and 36 inch), two shapes (square and round), and two heights (29 inch and 42.5 inch), you can mix and match the qualities you want to get the tables that you need. Each table set comes with the desired table top size and shape, the pole that you need for the table height you want, a steel connector which gets screwed to the underside of the table top and a base with adjustable feet and a polished top. All of the piece can be bought seperately, and if you want both tall poles and short poles, we can do that to. We'll be filling backorders as the week goes on, so if you interested in getting some of these tables for your summer weddings, you should act now.
In Vancouver, we will be receiving three new wood tables which we have never stocked in any of our warehouses. The first of these is a 60 inch half-moon table. This is basically a 60 inch diameter table that is cut in half. These are commercial quality tables, that feature super-strong steel legs, and Canadian plywood tops. The legs on the table are narrower than on a standard 60 inch diameter and are located along the straight edge of the half-circle. Like our other wood tables, the NES 60 Inch Wood Half-Moon Folding Tables feature legs and support beams that are bolted through the table top. We'll be getting some of these tables in our Toronto warehouse in the next couple of weeks, and as soon as I have some pictures I'll be posting them to Twitter and Facebook!
The second table we'll be receiving in Vancouver is our new NES Wood Serpentine Folding Tables. These tables have an out diameter of 10 feet and an inner diameter of five feet. Again, these tables are commercial grade with grey steel legs and Canadian plywood tops. The legs and support beams are bolted through the top for extra strength and the table top is clear-coated to keep it looking great. We'll also be getting some NES Wood Serpentine Tables in our Toronto Warehouse in the next couple of weeks and I'll be posting pictures of this fantastic table as soon as I have them.
The final table is going to be a Vancouver exclusive for the next month or two. We've been asked by customers for a wider "harvest" table, and we've managed to get our factory to produce one that we're happy with. With a wider table, you need to make sure that the supports and legs can handle the extra weight. The NES Wood Harvest Folding Table can handle the extra weight with no problems. It features enhanced supports to keep the table stable even under the heaviest loads. The table itself is 96 inches long and 42 inches wide, allowing for additional table room during family-style meals.
If you're interested in learning more about any of these tables, or any of our other products, please don't hesitate to contact us!