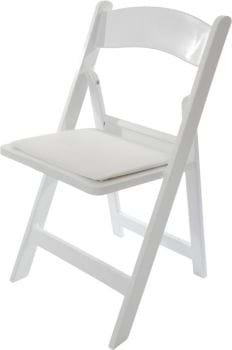 We've been testing our tables and chairs for almost a year. We've done tests to see how much weight it takes to destroy our NES Reliable Folding Chairs. We did an overnight test showing that our Plastic Folding Chairs have no problems holding 396 pounds for over 12 hours. And we've tested our bar-height folding chairs to prove their strength.
Today we're going to be testing one of our most popular event chairs, the NES Reliable White Resin Folding Chair. Rental companies buy white resin folding chairs because they are perfect for outdoor events on a sunny summer weekend and can be used inside when the weather is snowy and miserable. Sales of our white resin chairs have been increased every year that we have offered them. People just love our white resin padded chairs!
Some people are a little hesitant about purchasing a chair made entirely of plastic, and this video is for them. Find out how much weight our NES Reliable White Resin Folding Chairs can take by watching the video below!
White Resin Folding Chair Stress Test
Image courtesy of Grant Cochrane / FreeDigitalPhotos.net